In recent years, China has been building projects in large-scale construction projects, such as the Three Gorges Hydropower Station, the High-speed Railway, and the South-to-North Water Transfer. Today, we will introduce the 20 super-engineering projects that China has built in recent years.The Top 20 Super Projects in China are these:
1.Beijing-Shanghai high-speed railway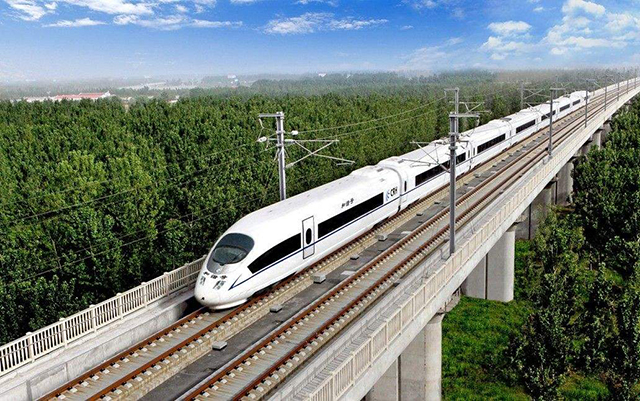 Project duration: 2008-2011
Investment amount: 220 billion yuan
The world's highest-speed high-speed railway, with a total length of 1,318 kilometers, connects two super-metropolitan cities such as Beijing and Shanghai, and important cities in eastern China such as Tianjin, Jinan, Nanjing, Wuxi, Suzhou, and the land transportation time of Beijing and Shanghai. Shortened to less than 5 hours.
2.Hangzhou Bay Bridge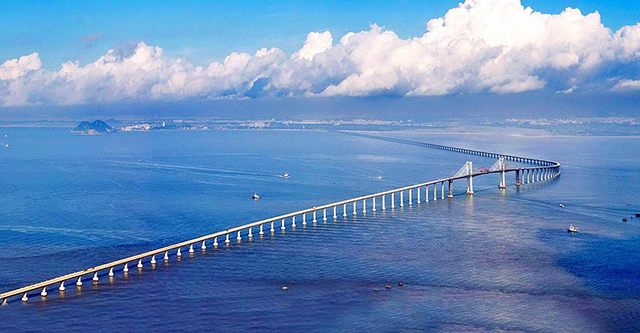 Project duration: 2003-2007
Investment amount: 11.8 billion yuan
The cross-sea bridge across Hangzhou Bay was the longest sea-crossing bridge in China at the time of completion in 2008. The bridge starts from Cixi in Ningbo and goes to Jiaxing Haiyan in the north, so that there is no need to bypass Hangzhou between Shanghai and Ningbo, shortening the driving distance of about 120 kilometers between Humin. The bridge is 36 kilometers long.
3.Western Development
Project deadline: 2000 years to date
Investment amount: more than 850 billion yuan
The "Western Development" is a policy of the Central Government of the People's Republic of China. The purpose is to "use the remaining economic development capacity of the eastern coastal areas to improve the level of economic and social development in the western region and consolidate national defense."
The scope of the development of the western region includes 12 provinces, autonomous regions, and municipalities directly under the Central Government (plus Enshi, Hubei Province, Xiangxi, Hunan Province, Yanbian Prefecture, Jilin Province): Sichuan Province, Shaanxi Province, Gansu Province, Qinghai Province, Yunnan Province, Guizhou Province, Chongqing Municipality. Guangxi Zhuang Autonomous Region, Inner Mongolia Autonomous Region, Ningxia Hui Autonomous Region, Xinjiang Uygur Autonomous Region, Tibet Autonomous Region, Enshi Tujia and Miao Autonomous Prefecture, Xiangxi Tujia and Miao Autonomous Prefecture, Yanbian Korean Autonomous Prefecture.
4.Beijing-Tianjin-Hebei "South-to-North Water Transfer Project"
Project deadline: 2002 to present
Investment amount: 500 billion yuan
The world's largest water transfer project, the mid-line project will transfer the water from the Danjiangkou Reservoir in the upper reaches of Hanshui to the four provinces of Beijing, Tianjin and Henan. The east line will move along the Beijing-Hangzhou Grand Canal to transfer water from the Yangtze River to Shandong, Hebei and Tianjin. As of September this year, the first phase of the South-to-North Water Transfer Project has completed an investment of 210.18 billion yuan, and the first phase of the East Line has completed an investment of 31.73 billion yuan. However, it is estimated that the total investment of the South-to-North Water Diversion Project may exceed 100 billion yuan.
5.Sichuan Gas East Project
Project duration: 2007-2010
Investment amount: 62.7 billion yuan
China's largest oil and gas pipeline network project mainly transports natural gas from the northwest to the eastern region. Up to now, the construction of first-line, second-line and third-line projects has been carried out. The estimated total investment of the three lines is more than 410 billion yuan. The total cost of the West-East Gas Pipeline Project will be higher as other lines such as the 4th line will start in the future.
6.Shandong Haiyang Nuclear Power Plant Project
Project deadline: 2009-2015
Investment amount: over 100 billion yuan
Haiyang Nuclear Power Plant plans to build 6 million kilowatt-class pressurized water reactor units, leaving two expansion areas with a single unit capacity of 1.25 million kilowatts. Among them, the first phase of the construction of two US Westinghouse Electric Company's third-generation nuclear power technology AP1000 million kilowatt-scale pressurized water reactor nuclear power unit, the estimated investment of 40 billion yuan, the first unit was put into commercial operation in May 2014. After the completion of the Haiyang Nuclear Power Plant, it will become China's largest nuclear power generation project to date.
7.Shanghai World Expo Project
Project duration: 2007-2010
Investment amount: 40 billion yuan
Shanghai World Expo Exhibition and Convention Center is a high-standard, modern and international exhibition venue with advanced facilities, reasonable layout, energy saving and environmental protection, convenient transportation and complete functions. Adjacent to the Huangpu River, this pavilion is located on the west side of the Expo Axis. It is close to the China Pavilion, the Expo Center, the Performing Arts Center and the five-star hotel. It is an important part of the high-standard, international modern service industry gathering area. After completion on September 30, 2009, it will be one of the permanent venues for the Shanghai World Expo. The total construction area is about 129,000 square meters and consists of five exhibition halls.
8.Eleventh Five-Year Tibet Highway Traffic Planning Project
Project duration: 2006-2010
Investment amount: 43 billion yuan
During the "Eleventh Five-Year Plan" period, the Tibet Autonomous Region's road traffic construction plan will invest 43 billion yuan, and the total mileage of highways will reach 50,000 kilometers. Highway traffic is the most important way of comprehensive transportation in the Tibet Autonomous Region, accounting for 95% of the total freight volume and 80 The passenger volume of % is the lifeblood of Tibet's economic development.
9.Jiuquan Wind Power Station
Project deadline: 2008-2020
Investment amount: 120 billion
Jiuquan wind power development began in 1996. After more than 10 years of construction, five large-scale wind farms have been built, and the installed capacity of wind power has reached 410,000 kilowatts. The total installed capacity of Jiuquan Wind Power Base's prospective wind power is 35.65 million kilowatts, and the planned installed capacity is 10.65 million kilowatts. To build a tens of thousands of kilowatt-class wind power bases in Jiuquan, it is necessary to invest 110 billion yuan to 120 billion yuan. All funds are invested by the commercial.
10.Guizhou 500-meter spherical radio telescope project (referred to as: FAST)
Project deadline: 2011-2016
Investment amount: 627 million yuan
The FAST (Five-hundred-meter Aperture Spherical Radio Telescope) 500-meter spherical radio telescope is located in the karst crater of Dawotun, Pingtang County, Guizhou Province, Buyi and Miao Autonomous Prefecture. It is led by the National Astronomical Observatory of the Chinese Academy of Sciences and is the most sensitive radio telescope with China's independent intellectual property rights and the world's largest single-caliber. It has a caliber of 500 meters, has a large receiving area of nearly 30 football fields, and has a main reflecting surface of 250,000 square meters. Compared with the German Bonn 100-meter telescope, which is known as the "largest machine on the ground", the sensitivity is improved by about 10 Times.
11.China's second largest hydropower station – Xiluodu Hydropower Project
Project deadline: 2005-2015
Investment amount: 79.2 billion yuan
Xiluodu Hydropower Station is located in the transition zone between the Qinghai-Tibet Plateau and the Yunnan-Guizhou Plateau to the Sichuan Basin. It is located in the Xiluodu Gorge section of Leibo County in Sichuan Province and Yongshan County in Yunnan Province. Xiluodu Hydropower Station is the largest of the four giant hydropower stations on the lower reaches of the Jinsha River. Its installed capacity is comparable to that of the current world's second largest hydropower station, Itaipu. The total installed capacity is 12.6 million kilowatts, and its annual power generation ranks third in the world. 57.12 billion kWh, equivalent to three and a half Gezhouba, is the second largest hydropower station in China.
12.Wuhan Railway Station – the largest railway hub project inland
Project duration: 2006-2010
Investment amount: 14 billion yuan
This large project with a total investment of more than 14 billion yuan is located on the east side of Yangchun Lake in Qingshan District of Wuhan City. It mainly includes Wuhan Railway Station Station, Station, Metro Line 4 and 5 subway stations, supporting roads and environmental renovation projects. Among them, Wuhan Station has a total construction area of 355,000 square meters and an investment of more than 4 billion yuan. There are two special vehicles, the passenger line and the general speed. There are 20 main lines and 12 lines, and 11 stations. According to the design of 2030, the peak hour passengers sent 9300 people.
13.Silk Road Renaissance Plan
Project duration: 2008-2014
Investment amount: 43 billion US dollars
On February 19, 2008, 19 ministers of transportation and senior officials from Russia, Iran, Turkey, and China signed a letter of intent in Geneva, Switzerland, and decided to invest $43 billion in the next few years to activate the ancient Silk Road and others. Some ancient Eurasia channels. Although most of the "Silk Road" is inland, traffic is backward. However, the vast area of the region, oil, natural gas, minerals, agricultural products and other natural resources are very rich in population, only the six member states of the Shanghai Cooperation Organization account for 3/5 of the Eurasian continent, and the population accounts for 1/4 of the world's population.
14.Three Gorges Dam
Project deadline: 1994-2006
Investment amount: 245.87 billion yuan
Located in Sandouping Town, Zigui County, Yichang, Hubei. The world's largest water conservancy project, the world's largest single hydropower station. The largest number of immigrants in the history of water projects, the total number of immigrants exceeds one million. In 1992, the National People's Congress approved the construction of the Three Gorges. It started in 1994 and completed the river closure in 1997. In 2003, the Three Gorges Project was filled with water to a height of 135 meters and put into operation. In 2006, it was stored at 156 meters. In 2009, it was completed and stored at 175 meters. It is still in the acceptance stage after completion, and it takes more than 20 years.
15.Daya Bay Nuclear Power Station
Project duration: 1987-1994
Investment amount: 410 billion yuan
Located in Dapeng Peninsula, Shenzhen, Guangdong Province, the second nuclear power plant in mainland China after Qinshan Nuclear Power Station is also the first large-scale commercial nuclear power plant to supply electricity to Guangdong and Hong Kong.
16.Qinghai-Tibet Railway
Project deadline: 2001-2006
Investment amount: 33.01 billion yuan
Generally speaking, the second phase of the Qinghai-Tibet Railway, which was officially opened to traffic in 2006, is the Qinghai Golmud to the Lhasa section of Tibet. The total length is 1,142 kilometers. This is the highest altitude railway in the world with the longest frozen section and the highest construction difficulty.
17.Sichuan post-disaster reconstruction project
Project deadline: 2008 – present
Investment amount: 1.2 trillion yuan
In 2008, the Wenchuan Earthquake in Sichuan Province caused damage to highway traffic and civil housing, and the country has been supporting post-disaster reconstruction.
18.Beijing International Airport T3 Terminal
Project duration: 2004 – 2008
Investment amount: 25 billion yuan
Beijing Capital International Airport Terminal 3 (T3), one of the key Olympic projects, is currently the largest single building in the world and the largest airport currently invested and constructed in China. The total investment of the project is 25 billion yuan. It has been completed in the past 4 years and was put into operation in two phases on February 29 and March 26, 2008.
19.Shanghai Lingang New City – the world's largest reclamation project
Project deadline: 2003-2020
Investment amount: more than 120 billion
Lingang New City is located at the southeastern tip of Shanghai, Nanhui Luchaogang, 50 kilometers away from Shanghai, with a planned area of 296.6 square kilometers (now expanding to 311.6 square kilometers, equivalent to 3/1 Hong Kong, or 20 Macao areas).
20.China High Speed Railway Network
Project deadline: 2007-2020
Investment amount: at least 2 trillion
Total investment in high-speed railway network: The total investment of Beijing-Shanghai high-speed railway project is about 200 billion yuan, and the total investment of high-speed railway network in China is at least 2 trillion yuan. The main investment trunk network in 2007-2012, the main investment branch network in 2012-2020.