The community gathers a group of groups with the same hobbies or the same industry. The IT technology community gathers technical talents in the IT industry. In the technology community, you can learn about the latest developments in the industry, learn the most cutting-edge technology, meet friends with the same hobbies, and learn And communicate.
There are generally three types of people in the technical community: the first type of technical people is to search for problems. Most programmers use this method to understand the technical community, or ask questions in the community when they encounter problems; Technologists of this category consciously often go to the technical community to check blogs and learn new knowledge; the third category is people who write articles and like to share a certain type of technology or their actual combat experience. People who write articles often like to read articles.
These IT technology communities in China are among the top ten technology communities.
1.CSDN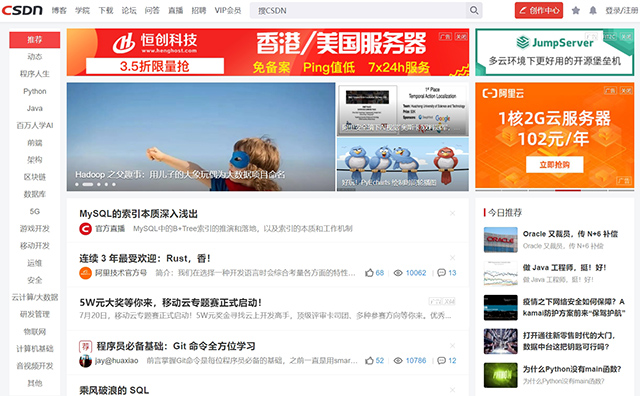 CSDN (Chinese Software Developer Network) was founded by Jiang Tao in 1999. It is a professional IT community in China that provides full life cycle services such as knowledge dissemination, online learning, and career development for Chinese software developers. As of June 2018, CSDN has more than 25 million technical members, 10 million+ forum posts, 7 million+ technical resources, 13 million+ blog posts, and 4.3 million+ new media matrix fans.
CSDN is a community with the most comprehensive coverage in the domestic IT industry. There are many masters and great gods hidden here. There are still many high-level talents such as scholars and graduate students who publish blogs on CSDN. The same massive IT colleagues are also active in CSDN. , But what is criticized is that CSDN's ads are the most, and the user experience is very poor.
2.cnblogs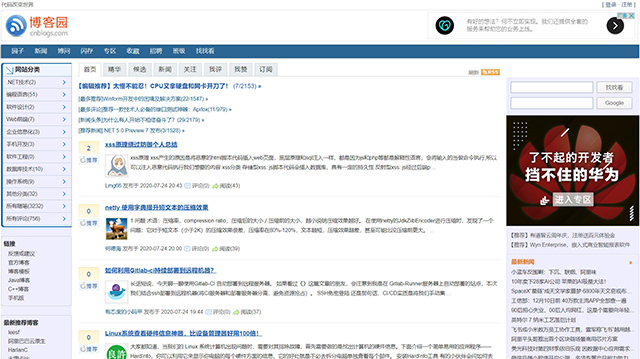 cnblogs was founded in January 2004 as a knowledge sharing community for developers. Since its establishment, cnblogs has been committed and focused on creating a pure technical exchange community for developers, promoting and helping developers to share knowledge through the Internet, so that more developers can benefit from it. The mission of cnblogs is to help developers change the world with code.
The development process of cnblogs can particularly reflect the persistent spirit of IT practitioners: In 2004, cnblogs was born in a small city like Yangzhou, Jiangsu, which is very backward in IT. For nearly four years, cnblogs is maintained only by the savings of a few years of work by one person. Step by step, he walked his own way, stupidly to manually approve each user registration, prefer to lack content on the homepage, and shut out inappropriate advertisements, foolishly caring about the user experience, and frosty about the profit model .
As you can see, the page of cnblogs is very clean and refreshing. Dry goods are put in the first place. There is no popular big picture carousel, and there are no advertisements. Just for such feelings, cnblogs should also be liked. The biggest feature of cnblogs is that it is open enough. The articles on the homepage are determined by the readers, and everyone's blog can also be customized to display. Therefore, the blog now has the richest personal blog skin interface. I saw the imagination of programmers in cnblogs.
3.SegmentFault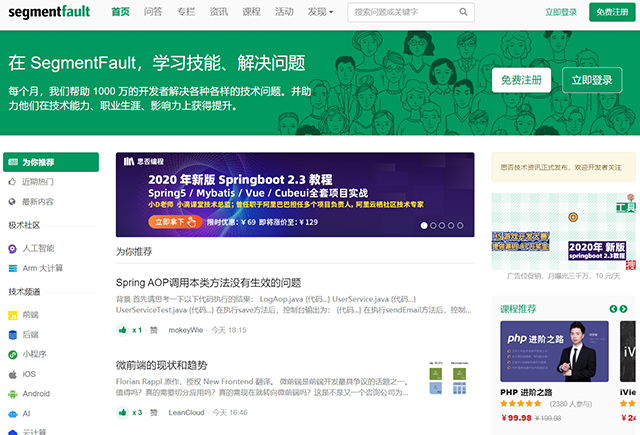 SegmentFault was founded in 2012 and is the largest technical Q&A community platform in the Chinese field. Here you can search, exchange and share any technical programming-related questions and knowledge. Its goal is to cover and serve more than 10 million Chinese software developers and IT information practitioners. Its realization method is to make full use of the various technological innovation opportunities available on various platforms to develop product applications and services for them.
4.V2EX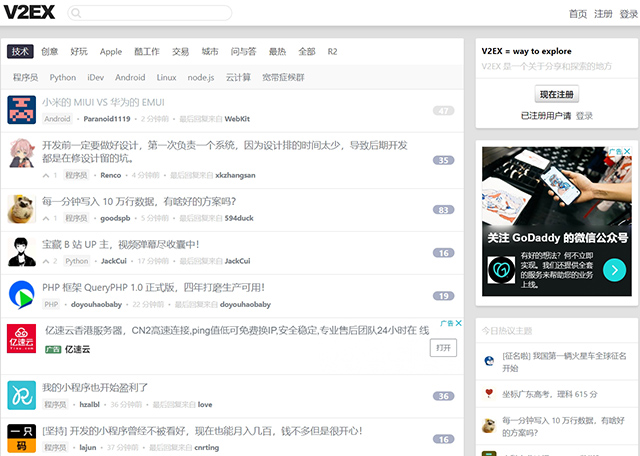 V2EX is a community of creative workers. There are currently more than 250,000 creative workers mainly from the Internet, gaming and media industries. V2EX hopes to be part of the lives and careers of creative workers.
Strictly speaking, V2EX is not a pure technical community. It is positioned as a community of creative workers, but in fact it is full of people in the IT industry. Everyone likes to discuss creativity, new technologies, and other activities like posting. The popularity is very high. The risk control mechanism of this platform is also strict. If the page refreshes too quickly, it will be restricted. Netizens often say that V2EX is a magic Website.
5.Open Source China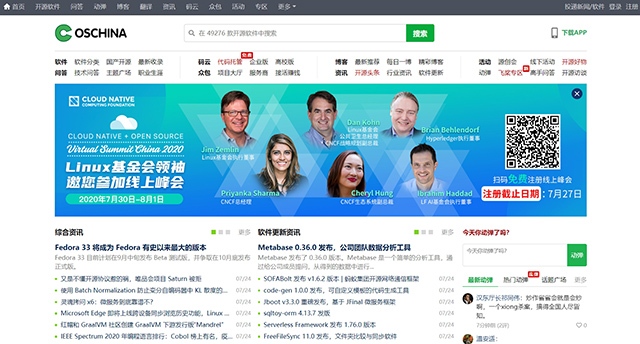 Open Source China was established in August 2008. It is currently the largest open source technology community in China. It has more than 2 million members. It has formed several major channels including open source software libraries, code sharing, information, collaborative translation, discussion areas, and blogs. IT developers provide a platform for discovering, using, and communicating open source technologies.
Open Source China is also a technical community that only focuses on specific areas of IT. Open Source China is mainly concerned with open source technology, which is suitable for those interested in this field. In 2013, Kaiyuan China was acquired by Hengtuo Kaiyuan.
Open Source China is also the only community in China that professionally reports on open source events. The website will report all the information in the open source community in real time. There is also a Chinese version of github: gitee.
6.W3School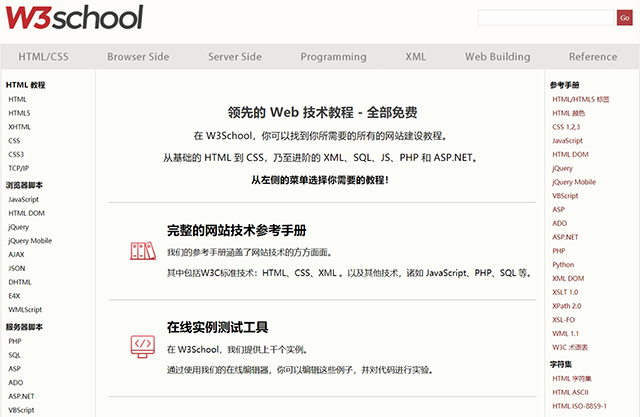 W3School is the largest web developer resource on the Internet, including comprehensive tutorials, comprehensive reference manuals and a huge code base.
Here is a brief description of W3School:
W3School is the largest web developer resource on the Internet
W3School is completely free
W3School is non-profit
W3School has been upgrading and updating
W3School is a member of the W3C Chinese community, dedicated to promoting W3C standard technology
The favorite of front-end programmers, W3School first shared a lot of easy-to-understand front-end tutorials, and later there were some back-end tutorials in it.
7.51CTO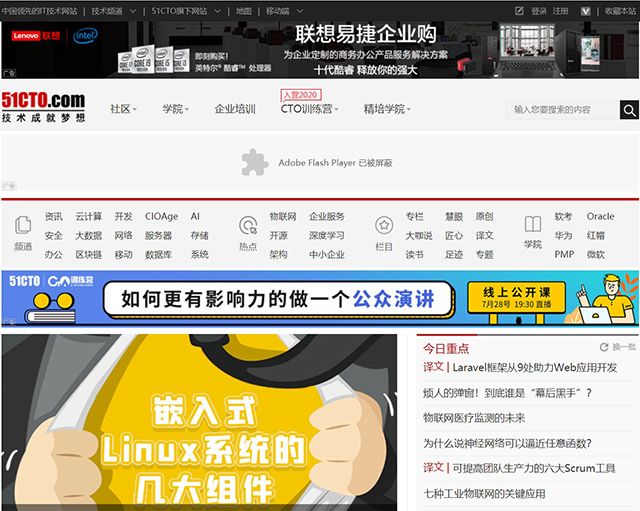 51CTO was established in 2005 and has been established as a professional growth platform focusing on IT professionals; it has 15 million registered users and covers most IT practitioners in mainstream cities in China. It is the number one professional service platform for IT technicians in China.
51CTO initially focused on the field of operation and maintenance, and it was also the technical community with the largest number of operation and maintenance technical talents in China. Later, it gradually turned into a technical community covering all fields.
8.ChinaUnix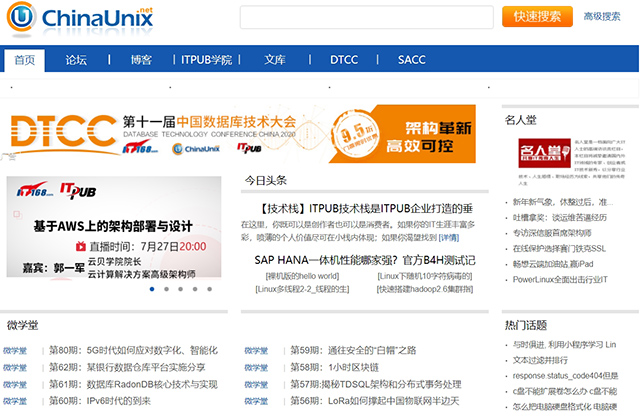 ChinaUnix(abbreviated as CU) is an open source technology community website that mainly discusses Linux/Unix-like operating system technology, software development technology, database technology and network application technology. Founded in 2001, after years of hard work and development, CU has become the world's largest and most popular Linux/Unix technology Chinese website.
The purpose of CU is to provide a free, open and free communication space for all friends who love Linux/Unix technology and open source technology. Focusing on only one area, small and sophisticated are the characteristics of CU. If you are interested in Linux/Unix technology and other fields, CU is a good choice. If you are concerned about other areas, there may not be relevant discussions and materials on CU.
9.ITEye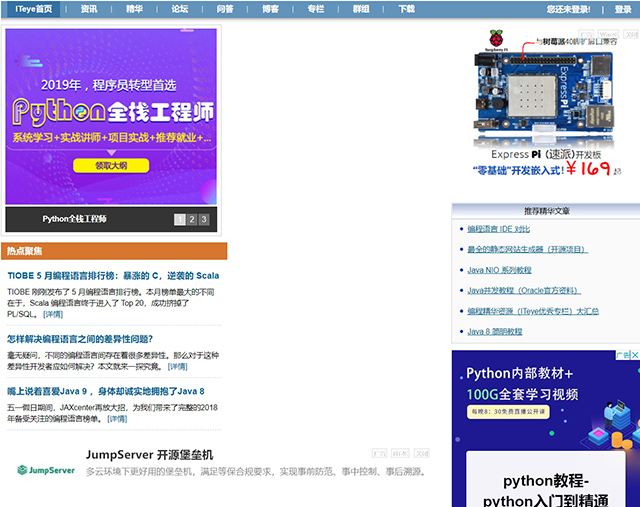 ITEye (formerly known as JavaEye) was founded in September 2003. The founder Fan Kai was learning and researching the Java open source framework but found that there was no place for discussion, so he set up this Java website. Now the ITEye website has developed into a comprehensive and functional Chinese IT technology portal and community website covering the entire software development field.
ITEye is known for its professionalism. It is said that in the initial stage of the website creation, new users need to do mandatory questions and 13 multiple-choice questions related to forum rules. If they are not correct, they will not be approved. Since ITEye was acquired by CSDN, the website has never been updated, and its popularity has fallen sharply. It has now fallen into the second-line camp.
10.juejin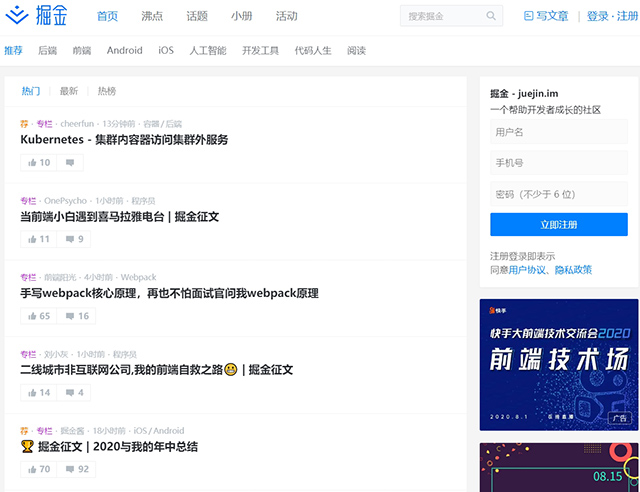 Founded in August 2015, juejin originally came from rare earths and is a sub-section of rare earths. Unexpectedly, rare earths did not become popular, but juejin as a technology sharing website became popular, so the founder Mingming immediately adjusted its direction and developed vigorously. juejin. Last year, juejin also opened its own columns and brochures, slowly transforming from a technical article sharing website to a comprehensive technical community, looking forward to follow-up development.