The temperature is gradually rising, and the approaching summer heat is beginning to make people think about various summer resorts. If you have already stopped the "people and people" of summer resorts and water parks, you may wish to take a rafting boat through the mountains, explore the underground wonders of stalactites, and admire the beautiful rocks on both sides of the river. It is definitely a "cool" journey.Karst caves are a kind of magical landscape in nature. On the vast land of China, there are countless caves. Among them, these 10 karst caves in china are the most beautiful.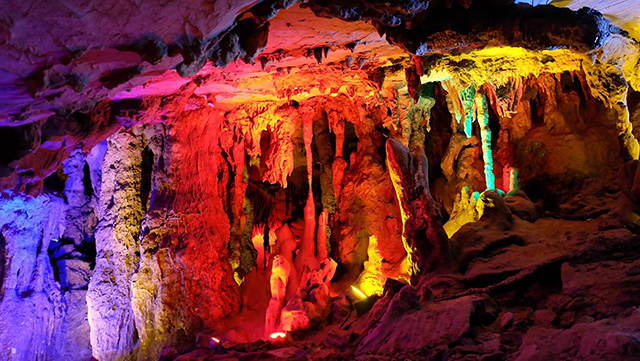 1.Reed Flute Rock-Art Palace of Nature 芦笛岩
Reed Flute Rock is located in the northwestern suburb of Guilin City, 5 kilometers away from the city center. It is a scenic area mainly based on visiting caves and supplemented by landscapes and idyllic scenery. The reed cave is 240 meters deep and has a range of 500 meters. There are a large number of beautiful and exquisite stalagmites, stalagmites, stone pillars, stone mantles, and stone flowers in the cave, which are full of sights, and form the landscape of Shiling Chaoxia, Hongluo Tent, Panlong Pagoda, primitive forest, Crystal Palace, Huaguo Mountain, etc. Tourists are dizzying, like wonderland, known as "the art palace of nature".
2.Seremban Cave-one of the best caves in the world 芙蓉洞
Furong Cave is a large limestone cave formed in the Quaternary Pleistocene (about 1.2 million years ago) and developed in the ancient Cambrian dolomite limestone. The stable temperature inside the cave is 16.1 degrees. The main cave of Furong Cave is 2700 meters in length, 1860 meters in the tour path, the bottom width is more than 12-15 meters, and the widest is 69.5 meters. The cave height is generally 8-25 meters and the highest is 48.3 meters. Above 1,000 square meters, with an area of 11,000 square meters, it is the most spectacular.
3.Alu Ancient Cave-the first cave in Yunnan 阿庐古洞
Alu Ancient Cave is known as "the first cave in Yunnan", 200 kilometers away from Kunming and 5 kilometers away from Luxi County. Also known as Wuyuan Cave, Alu Ancient Cave is a group of peculiar and spectacular underground karst caves, that is, underground karst landforms. It is similar to the landscape of stone forest. Stone forest is on the ground. One.
4.Jiguan Cave-The First Cave of Northland 鸡冠洞
Jiguan Cave is located in Luanchuan County, Luoyang City, Henan Province, three kilometers west of the county seat, on the mid-mountainside of Jiguan Mountain, Yumai Feniu Mountain, Qinling Mountains, with an altitude of 1021 meters. Jiguan Cave is a large limestone karst cave with karst karst landforms. The length of Jiguan Cave is 5600 meters, and the viewing length is more than 1,800 meters. The viewing area is 23,000 square meters. This type of cave is rare in the north and is known as the first cave house in the north.
5.Baima Cave-White Dragon Horse Passing by When Studying in the West 白马洞
Baima Cave is located at Nanjin Pass, northwest of Yichang City, and at the Xiling Gorge of the Three Gorges of the Yangtze River. It faces the Pentium Yangtze River, the well-known Gezhouba Water Conservancy Hub on the left, and the beautiful Xiaole Creek on the right, across the river from the famous Sanyou Cave of Xiakou. It belongs to the Xilingxiakou Scenic Area, is China's first batch of national key scenic spots, is a national AAAA-level tourist area, and is a scenic area in Hubei Province that has passed IS09000 and IS014001 quality and environmental management certification.
6.Yinziyan-Wonders of the World Cave 银子岩
Yinzi karst cave is a typical karst landform. It runs through twelve peaks and belongs to a layered karst cave. It contains stalactites developed and grown in different geological ages. It is crystal clear, white and flawless. Silver, diamond-like light, mixed yuan pearl umbrella, unique pillars. Nature's awe-inspiring arts are displayed here incisively, so it is known as "the wonders of world caves".
7.Limwu-dong-Tin Hau Bekgu 林屋洞
Linwudong is located in the northeast of Xishan Town, Suzhou City, Jiangsu Province, west of Linwu Mountain. According to Taoist classic records such as "The Seven Signs of the Clouds", there are ten caves in the world, thirty-six small caves in heaven, and seventy-two blessings in the world, all of which are immortals. ", Nicknamed" Tianhou Bie Palace. " According to legend, in ancient times, there was a dragon house in the forest house cave, so the cave body resembles a dragon, also known as the "dragon cave", and the forest house mountain is also called the dragon cave mountain.
8.Huanglong Cave-Peerless Wonder 黄龙洞
Huanglong Cave is located in the Wulingyuan Scenic and Historic Interest Area of the core scenic spot of Zhangjiajie City, Hunan Province. It is an organic component of the Zhangjiajie World Natural Heritage and World Geopark. It is a typical karst karst landform. , China's first batch of AAAA-level tourist areas (points), China's first batch of well-known brands, the best tourist attractions in Hunan Province, Hunan Province's well-known trademarks, one of the Zhangjiajie tourism boutique line, enjoy the reputation of peerless wonders.
9.Zhijin Cave-the first of China's top ten strange holes 织金洞
Zhijin Cave is now a national geopark, a national natural heritage, a national AAAA-level tourist attraction, and a world geopark. Zhijin Cave was named the first of "China's Six Most Beautiful Tourist Caves"; "China's most beautiful tourist attraction-China's Top Ten Strange Caves". China National Geographic and other national geographic research departments He also gave high praise, calling it "the king of Chinese caves", "Huangshan returns without looking at Yue, and there is no cave sky outside Zhijin Cave! ".
10.Shihua Cave-Qianzhen Cave 石花洞
Beijing Shihuadong National Geopark is located in Nancheying Village, Hebei Town, Fangshan District, Beijing, 55 kilometers away from Beijing. It is a seven-story karst cave with a height difference of 150 meters. At present, all the first and second floors and the third and fourth floors have been opened to the public, and the length of the tour is 2,500 meters. Shihua Cave, formerly known as "Qianzhen Cave", has been in existence for more than 500 years. Because there are three marble Buddha statues carved in the cave, it was renamed "Stone Buddha Cave", and the incense was once very popular.