Game operator, this is a concept in online games. Generally, online game operators refer to operating online games by independently developing or obtaining the agency rights of other game developers, and selling game time, game items or related services to players Value-added services and online companies that place in-game advertising to earn revenue. The top 10 game operators in china are these: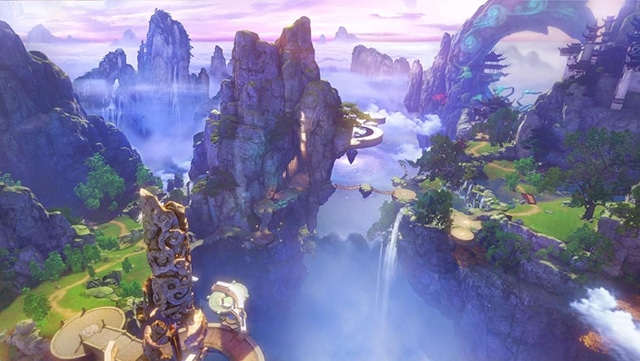 1.Tencent Games
Tencent Games, the world 's leading game development and operation agency, a large domestic online game community, and Tencent 's profit pillars include Tiantian Love Elimination / QQ Speeding Car / Rhythm Master / QQ Hyun Dance / Happy Landlord / Civil Wars / Hero Classic games such as Alliance / Dungeon and Warrior / Sword Spirit.
Tencent Games is one of Tencent's four online platforms, a game development and operation agency, and a large online game community in China. Whether it is the overall online lifestyle layout of Tencent or the product layout of Tencent Games, it starts from the basic needs of users, simple applications, focuses on the sustainable development of products and vitality, and creates green and healthy boutique games. Under the open development model, Tencent Games has adopted a combination of internal independent research and development and diversified external cooperation. It has formed a professional layout in multiple market segments of online games and achieved good market performance.
12In December 2010, Tencent Games debuted with a new brand image! Based on the concept of "creating happiness with your heart", Tencent Games has created four diversified platforms through hard work in multiple product segments, providing players with "trustworthy", "happy" and "professional" interactive entertainment. Experience.
2.Netease games
The integrator of the independent development and successful operation of online games. It owns independent products such as Fantasy Westward Journey / Fighting Westward Journey, and has distributed a number of popular games such as World of Warcraft / Furnace Legend.
Netease officially established the Online Game Division in 2001, growing with the majority of game lovers. After nearly 20 years of rapid development, Netease has ranked among the top seven game companies in the world. As China's earliest game development company, Netease has always been at the forefront of online game independent research and development.
At present, NetEase has more than 100 game products in operation. Independently developed the computer version of "Dream Westward Journey", "Darage Westward Journey 2 Classic Edition", "Darage Westward Journey 2 Free Edition", "World Under Heaven 3", "New Chinese Ghost Story", "Adverse Water Cold", "Dream Westward Journey" mobile game, " Journey to the West, Mobile Games, Ghost Story, Mobile Games of Yin and Yang, Shore of the Earth, Chu Liuxiang Mobile Games, Wilderness, Terminator 2: Judgment Day, Fifth Personality , "After Tomorrow", "The Night of Gods" and dozens of popular end-games and mobile games that are loved by players, and they have also represented "World of Warcraft", "The Legend of Hearthstone", "Overwatch", "My "World", "Sky Light · Yu" and many other popular games around the world.
With a series of excellent products, NetEase Games has made major breakthroughs in overseas markets in recent years. In 2018, "Wilderness Action" ranked at the top of China's overseas mobile games ranking. At the same time, products such as "Terminator 2: Judgment Day", "Fifth Personality", "Yin and Yang Division", "Decisive Battle! Heian Jing" have also achieved good results overseas.
Netease Games interprets its image as "game enthusiasts". It is not only positioned as a game platform and service provider, but also like all players, it is a "game enthusiast" with flesh and blood.
In the future, NetEase Games will continue to adhere to the concept of "Ingenuity and Innovation" by NetEase, and work with many partners around the world to create high-quality games that can be shared and loved by players.
3.Wan Mei Shi Jie
A well-known large-scale cultural and entertainment industry group and a well-known online game platform service provider have launched large-scale online games such as Wan Mei Shi Jie / Wulin Waizhuan / Zhu 仙 / Chi Bi, and have represented the global masterpiece DOTA2.
MeiWan Mei Shi Jie Holding Group is an international entertainment industry group that owns A-share listed company Wan Mei Shi Jie Co., Ltd. (002624). Its products are distributed in more than 100 countries and regions in the United States, Europe, Asia, etc .; it has branches in Beijing, Hong Kong, Shanghai, Chongqing, Chengdu, Hainan and other places, and in the United States, the Netherlands, France, South Korea, Japan and other regions. There are more than 20 overseas branches. At present, the group covers the business sectors of film and television, games, e-sports, cinema, animation, education, etc., and strategically lays out areas such as literature and media.
4.Kingsoft Xiaoyao
Kingsoft's game business focuses on the computer game and digital TV entertainment industries. It has a number of well-known games including Zhongguancun Apocalypse, Swordsman Love, and the Korean War.
SoftKingsoft began to enter the game industry in 1995 and established Zhuhai Xishanju Studio. After 1996, stand-alone games such as "Zhongguancun Apocalypse", "Swordsman Fate" and "Korean War" were successively released. In 2003, Kingsoft entered the online game industry, making online game products rooted in Chinese culture. In the same year, Xishanju Studio launched the online game "Swordsman Love Online" and was a great success.
Kingsoft Games has more than 1,200 employees and consists of two major systems: R & D and operation. It has six game studios: Xishanju, Liehuo, Aden, Jingcai, Shangshuixuan and Qichenzhai. It is mainly engaged in the independent research and development of large-scale MMO games. It also holds multiple game studios and operates more than 10 large-scale MMO games at the same time. Kingsoft Game Operation Center has related operating systems including online game operations, business development, business development, marketing, regional marketing, operation and maintenance, and customer service, serving hundreds of millions of users. At the same time, it has set up more than 20 branches and Offices covering the national channel network.
5.Shengqu Games
The original Shanda game was established in 1999. It operates a variety of online games, such as Legends of Legends / World of Legends / Valley of Dragons / Eternal Tower / Bubble Hall / Adventure Island.
Shengqu Games (formerly Shanda Games) was established in 1999 and is a leading global online game developer, operator and publisher. From March 31, 2019, the company officially launched a brand new brand identity and unified use "Shengqu Games" (English name: ShengquGames) as the company brand. Shengqu Games is based on the new positioning of "technology empowers culture" and is committed to becoming a technology and cultural enterprise that creates the ultimate interactive experience.
Shengqu Games has about 3,000 game developers, operation and maintenance personnel, and has launched more than 70 online games such as "Legend of Blood", "Legend World", "Bubble Hall", "Valley of Dragons", "Final Fantasy 14", etc. More than 2.1 billion registered users. Since operating "Legend of Blood" in 2001 and initiating the era of online games in China, Shengqu Games has always played the role of a pioneer and changer in the Chinese game industry.
In the mobile field, Shengqu Games has successfully released the agent game "Proliferation Million King Arthur" and launched the self-developed games "Legend of Blood", "Legendary Mobile Games", "Dragon Valley Mobile Games", "Godless Moon "," Warriors of Light "and other phenomenal works. In the future, Shengqu Games will explore extreme technology with new concepts and attitudes, build a green ecology for new cultural industries, and bring excellent Chinese culture to the world.
6.KONGZHONG
A well-known online game developer and operator in China. In 2011, it obtained the agency rights of World of Tanks. It is a large-scale online game service provider with Internet games / mobile games and wireless value-added as its main business.
Skynet is an online game developer and operator, providing high-quality large-scale online game services to Chinese and overseas Internet users, while providing diversified wireless entertainment services for Chinese mobile phone users. The company was listed on the NASDAQ (NASDAQ: KZ) in the United States in 2004. At present, the company's business covers three major areas: Internet games, mobile games and wireless value-added. Its wireless value-added business has ranked first in the industry for many years.
In 2009, Kongkong.com officially entered the field of Internet games, adhering to the parallel strategy of independent research and development and agency games. The self-developed products "Dragon", "Sacred Blood" and "Kung Fu Hero" have been released to more than 60 countries around the world. In 2011, the aerial network agency operated "World of Tanks" developed by Wargaming, which has become a competitive product in the Chinese online game market. In April 2014, Kongkong.com integrated three game resources of "World of Tanks", "World of Fighters" and "World of Warships" to launch the war online game "WARSAGA War Legends ™". In May, the subversive 3D magic online game masterpiece "Guild Wars 2" was officially tested. The CD-key pre-sale volume exceeded 500,000 copies in the first month, and the buyout business model was recognized by the market. As of May 2014, Skynet has successively obtained a number of masterpieces including World of Tanks, World of Fighters, World of Warships, Guild Wars 2, Racing League, and Blitz 3 Operating rights in mainland China.
In 2011, Kongkong.com laid out the field of smart games, with years of experience and accumulation in the wireless field, through independent research and development of IOS and Android platform games, independent operation and independent distribution of the Trinity, extending to the mobile online game market. At present, the company has established more than ten game development studios in Beijing, Tianjin, Shanghai, and Xiamen. The smart phone games cover various types and themes such as role-playing, real-time strategies, casual puzzles, military warfare, and magic adventures. Since 2013, mobile games such as "Funny Three Kingdoms", "Pocket Wars", "Goddess of War", and "Three Kingdoms Overlord Land" have been online and have achieved good results at home and abroad. In addition, the company will continue to seek IP and overseas game licenses and agents to bring more quality games to Chinese players.
7.Century Tiancheng
Tian Century Tiancheng is a universal entertainment platform focusing on online entertainment-related businesses. It operates well-known games such as Rocky Heroes / Running Kart / Counter-Strike Online.
Tian Century Tiancheng is a national entertainment platform dedicated to online entertainment-related businesses under Shanghai Youtong Technology. Headquartered in Xuhui District, Shanghai, it currently mainly operates online games from NEXON and other game companies. Counter-Strike Online, Counter-Strike Online2, Running Karting, Rocky Heroes, Rocky, EVE, Free Basketball, Storm War Zone, Magic Age, Running Karting Mobile Game Edition, Adventure Island Mobile Game Edition and more
Tian Century Tiancheng is a professional team focused on online entertainment-related businesses under Shanghai Youtong Technology. It is a subsidiary of South Korea's NEXON Corporation in mainland China. Its English name is Tiancity.
Century Tiancheng has a more experienced team to create more brilliant operating results. Century Tiancheng will not only cooperate with more game companies in the future, but also further expand its research and development capabilities to provide users with a more exciting and richer entertainment experience.
8.Changyou
The predecessor of Sohu was the game division of Sohu Company, which was established in 2002. It is a leading Internet game developer and operator. It owns games such as Tianlong Babu / Dantantang / Xuanyuanjian.
Changyou Company (NASDAQ: CYOU) is an Internet game developer and operator. It was listed on the NASDAQ Global Select Market in April 2009. The company focuses on the development, operation and licensing of diversified online games, with "good games, big IP, big distribution" as its development goal, adhering to the spirit of craftsmen, Changyou Company plays an important role in the field of online games in China.
Changyou 's flagship game product, "Xin Tian Long Ba Bu", has been operating for 10 years and has nearly 300 million registered users. "Xin Tian Long Ba Bu" still occupies an important position in the hearts of players. In May 2017, "Tianlong Babu Mobile Game" developed by Changyou Company was officially launched in all channels. "Tianlong Babu Mobile Game" was carefully produced by the original team of Tianlong Duanyou. The game interacted with the gang through a variety of social modes Function to build a huge user community, re-attract the once huge Denon user base back to the game, inherit the classics, and create the glory of the end-game era. At the same time, the classic version of Tianlong Mobile Games simplifies the in-game operations, makes it easier for new players to get started, and expands the user base of the game to the younger generation on the market. In addition, games such as "Tianlong Babu 3D" and "Sword Hero" currently being operated by Changyou Company are also popular with players.
Changyou 's self-developed game engines, Fairy and Titan, use technologies such as time-lapse rendering, real-time global illumination, and dynamic soft shadows to produce high-quality game graphics. We also have a unified game development platform, effective anti-cheating and anti-hacking technologies, self-developed cross-network technologies and data protection technologies.
Changyou Company has many IP network game development and operation rights, including most of Jin Yong's martial arts novels, part of Huang Yi's fantasy novels, part of works of fairy sword legends, Xuanyuan sword series, and multiple Japanese anime IP and online literature IP.
9.Juren Network
Well-known online game developer and operator, a comprehensive interactive entertainment company integrating R & D / operation / sales as a whole, is well-known in the industry for its first self-developed online game "Zhengtu" in 2006.
Juren Network Group Co., Ltd. (formerly Shanghai Zhengtu Network Co., Ltd.) was established on November 18, 2004. It is a comprehensive interactive entertainment company integrating R & D, operation, and sales, starting from the development of online games. In the future, Juren Network will be positioned as a comprehensive Internet company, which will have three core businesses: Internet entertainment, Internet finance, and Internet healthcare.
Juren Network adheres to the boutique strategy of "every player is the starting point", builds the national boutique online games, and makes a positive contribution to the development of China's online entertainment industry. Independently developed dozens of popular end-games and mobile games, such as "Zhengtu" series, "Jianghu", "Xianxia World", "Ballball Battle" and so on.
In addition, Juren has also represented a variety of games such as Vainglory. The agent's mobile sports game "Street Basket" won many awards. Juren has been at the forefront of the industry in the field of independent research and development of online games, and has super strength in the field of distribution.
10.Snail game
The domestic virtual operators in the Chinese gaming industry, the earlier domestic 3D virtual digital technology R & D companies and the earlier Internet companies engaged in 3D online game R & D, set technology development / content R & D / global distribution / platform operations / traffic operations / terminal manufacturing capabilities All in one industrial Internet company.
Snail Digital (full name: Suzhou Snail Digital Technology Co., Ltd.) was established in 2000. It is an earlier 3D virtual digital technology R & D enterprise in China and an earlier Internet enterprise engaged in 3D online game R & D in China. It is a virtual operator of the Chinese game industry. . At present, the snail digital business covers the fields of games, communications and hardware, forming a full industry chain development system integrating software and hardware. It is a collection of technology development, content research and development, global distribution, platform operations, traffic management, and terminal manufacturing capabilities. Industrial Internet Company.
Snail's digital game business covers many fields such as PC large-scale terminal games, mobile games, web games, VR games, AR games, and console games. Since the successful development of the 3D online game "Navigation Century" in 2004, Snail Digital has accumulated a number of intellectual property rights for independent research and development of virtual digital technologies, including Voyager Engine, D1XN Engine, and Flexi Engine. Operated more than a hundred different versions of digital entertainment products such as "Navy Century", "Dance Street District", "Jiuyin Zhenjing" and "Tai Chi Panda".
In 2014, Snail Digital obtained a virtual operator license issued by the Ministry of Industry and Information Technology, established Snail Mobile, upholding the concept of "communication gamification and game communication", launched a series of "free" brand communication products and services, and realized the design of integrated communication and game products. , Development, marketing and operations. As of March 2017, the number of snail mobile users has exceeded 10 million, becoming a virtual operator with a large number of users in China, a rich product line, and high settlement revenue.
In the same year, Snail Digital acquired domestic hardware manufacturer Rui Gao to enter the hardware field, and successively launched a series of products including 78 points P01, W3D, Mochi i7, snail home host OBOX, and machine-free. So far, Snail Digital has opened up the entire industrial chain of R & D, content, terminals, and platforms, and is moving towards the direction of industrial Internet companies.
Since "Navigation Century" landed in South Korea in 2004, Snail Digital's products have been exported to more than 150 countries and regions overseas, with more than 100 million registered users worldwide, and have accumulated rich experience in the operation of globalized markets. At the same time, Snail Digital has established wholly-owned subsidiaries in Russia, the United States, South Korea and Japan, and has established strategic cooperative relationships with more than 70 brand companies and media around the world, laying a solid foundation for the global development of Snail Digital.