China's domestic watches also have a long history. Domestic watches are known for their high quality and low prices. Novel appearance and reliable quality are the guarantee of China's top ten domestic watch brands.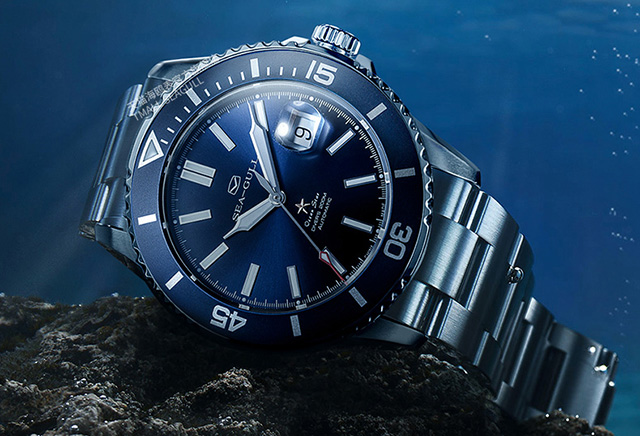 1.Seagull 海鸥
Seagull is an old Chinese brand that produced the first watch in China. It has appeared on the Basel Watch Fair on behalf of the Chinese watch brand and has gained an international reputation for its superb tourbillon technology. Its M222S manual winding watch is the most popular domestic watch in the forum.
Tianjin Seagull Watch (Group) Company is located in Tianjin. The production of Seagull brand watches has more than 50 years of development history since its birth in 1955. The 50-year history has laid a solid technical foundation for the manufacture of "Seagull" watches. A watch production base that integrates the research and development, production, assembly and sales of watch movements.
2.Rossini 罗西尼
Rossini is the brand in this list with very high retail volume and retail sales. Relying on the identity of its joint venture brand and the brand name of Westernization, it has successfully become the leader of the domestic watch retail industry.
In July 1984, as the earliest Sino-foreign joint venture established in China's watch industry, Rossini was born under an economic background of oversupply of watch products with US $ 3.1 million. Introduced a complete set of equipment and processing technology for processing gold-plated case in Switzerland, relying on advanced technology to produce high-end cases that are matched with domestic and foreign watches. It also pioneered special-shaped waterproof cases in China and became a leading domestic manufacturer of high-end cases.
Although Rossini mainly produces mid-range mechanical watches and quartz watches, it also manufactures complex models such as gold watches and tourbillon watches.
3.Fiyta 飞亚达
As Shenzhou 5 flew into space and successfully completed China's first manned space flight mission, Fiyta watch deservedly became the first domestically produced watch. This is exactly the same as the story of Omega's moon landing.
Shenzhen Fiyta (Group) Co., Ltd. was established in 1987. It is the only watch company listed in the country. It has grown into a flagship watch company in China. It integrates watch research and development, design, manufacturing and sales. Da "famous brand and" Hengli "commercial brand, the marketing network covers the whole country and extends to foreign countries.
Fiyta also focuses on watchmaking technology, independently develops tourbillon movements, aerospace movements, and innovatively develops new materials for watches such as space-enhanced titanium. It organizes watch design competitions, creative watch designs and craftsmanship, and Fiyta is performing classic clocks. At the same time of culture, it always conveys the "progressive" life proposition.
Beijing Watch is also committed to the manufacture of high-end watches, especially in the field of tourbillon, enamel and embossment. It is a high-end domestic watch brand.
Beijing Watch Factory was established in 1958 and is located in Changping, Beijing's back garden. The factory sits north to the south, leans against the military capital and looks down at the Wenyu River. For half a century, Beijing Watch Factory has been immersed in the culture of ancient capitals, cultivating talents, exploring the art of watches and clocks, and challenging the limits of craftsmanship, forming a corporate culture of "humanism, collaboration, truth-seeking, and innovation".
Beijing brand watch is China's first brand to develop tourbillon watches, completed in 1996. In 2004, the limited edition red tourbillon watch sold by Beijing brand watches was also the first time for China to produce and sell high-end watches.
5.Tianwang 天王
If you have seen the news webcasts of the 1990s, you should remember the slogan "Tianwang watches accurately time for you". Since then, Tianwang watch has gradually grown into a well-known domestic watch brand, and has been rated as the national best-selling product "Golden Bridge Award" for four consecutive years. honor.
The "Tianwang Watch", created in 1988, is a watch brand under the Hong Kong Chronometer Group, which uses the crown shape as the brand logo. After more than 20 years of development, it has become a well-known brand in the domestic watch industry. Today, Tianwang watches rely on a strong design team and research and development capabilities, through a variety of advanced computer design software and international precision processing equipment, to design and produce the Tianjue Tourbillon, Legend, Feng Shang, Fengyun, Dragon and Phoenix, Golden Knight, Wheel Time series and many other classic models, loved by people from all walks of life.
6.Geya 格雅
Shenzhen may be the center of watchmaking in China, and Geya is also produced in Shenzhen. Geya began in 1993, and for 21 years has been adhering to the business purpose of "first-class quality, first-class service". Introducing the world's advanced design concepts, watchmaking techniques and equipment, Geya Watch has continuously introduced classic works that are loved by consumers.
GeyaE places its product research and development base in Shenzhen, the city with the most energy and innovation capabilities. With an annual output of more than one million watches, the brands "Geya" and "Geya" watches have gained high popularity in China. In recent years, Geya has put forward the brand core value concept of "free and true temperament", carried out a brand new interpretation of Geya, and vigorously strengthened product research and development, forming a unique Geya style.
7.EBOHR 依波
EBOHR watch is a well-known watch brand under the Haidian Group, along with Rossini. EBOHR1991 was founded in Shenzhen, China. The EBOHR boutique company is a subsidiary of China's Haidian Group, a Hong Kong-listed company. It is a group enterprise specialized in designing, manufacturing and marketing brand watches, precious metal jewelry and refined products.
EBOHR watch is not only a brand, it also has a rich sub-product line. It also has two sub-brands, Yufei and Kana, which produce high-end sophisticated watches and women's jewelry watches, respectively. Yufei even has complicated functions watches such as hollow, tourbillon, standard hands and moon phases. Is one of the four major domestic brands, one of the high-end watches.
8.North Star 北极星
When it comes to Polaris, the most profound thing is probably the clock. That's right, this North Star was the brand created by Yantai Baoshi Clock Factory in 1915, the national industrialist Mr. Li Dongshan opened the first mechanical clock factory in Yantai.
After the founding of new China, Yantai Bell Industry was revitalized with the support of the party and government. After the transformation of socialist industry and commerce, the public-private joint venture Yantai Clock Factory was established. In January 1960, in order to meet the needs of product exports, the bell factory began to use the "North Star" trademark.
In January 1975, the Yantai watch industry was adjusted and expanded, and specialized factories such as wooden clocks, alarm clocks and watches were established. Later, new watch and clock components, watch material manufacturing plants and research institutes were built to form a complete watch production system. "Polaris" has become one of the main production bases of China's watch industry.
9.RARONE 雷诺表
Shenzhen RARONE Watch Industry Co., Ltd. was founded in the 1980s. It is a large-scale watch company integrating professional watch development, production and watch sales. After more than 20 years of production and operation, it has now become the backbone of China's watch industry.
Since its establishment, RARONE has adhered to innovative design and boutique strategies, pursued superior quality and perfection, and has won praises from consumers for its cost-effective products and perfect service system. RARONE watch has participated in world-renowned exhibitions such as Basel World Watch & Jewellery Show in Switzerland, Munich Watch & Jewellery Show in Munich, Dubai Commodity Show in Middle East, Hong Kong Watch Show, China (Shenzhen) International Watch Show for many years, and has become a famous Chinese brand entering the international event. At present, the influence and popularity of RARONE brand has gone global.
RARONE watch also signed Sun Honglei, Jia Jingwen became the brand spokesperson.
10.Xinghuang 星皇
People in the north of Xinghuang Watch may know less, but the brand is a household name in Guangdong and it is a well-known watch brand in Guangdong. Shenzhen Jieyongxinghuang Watch Co., Ltd. was founded in Shenzhen in 1992 and is the first brand in the list to be founded in the 1990s. It is a professional watch manufacturer integrating R & D, production and sales. For more than 20 years, we have been focusing on product details and pursuing superior quality, which has created the Xinghuang brand.
In 1988, Xinghuang Watch took the lead to participate in the "Hong Kong International Watch and Clock Fair" and "Swiss Basel International Watch and Jewellery Fair" and officially entered the international market. Xinghuang watch has a rich product line and beautiful design, and pursues design details than many domestic brands. It is indeed a domestic watch brand worth buying.