A-share listed companies are representatives of high-quality enterprises, with more stable cash flow and better corporate governance structure. Today, as technological innovation has become synonymous with China's economy, technologically innovative enterprises are of paramount importance. In 2020, these top ten high-tech companies with Chinese A shares have become a force that cannot be ignored in the market.
1.Heng Rui Pharmaceuticals 江苏恒瑞医药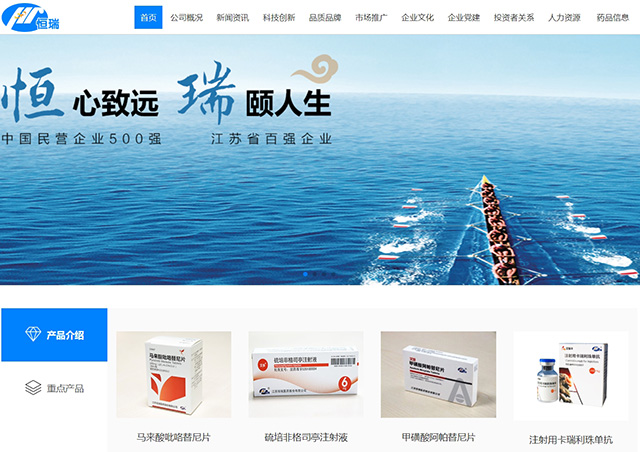 Jiangsu Heng Rui Pharmaceuticals, founded in 1970 as a joint stock company, the largest domestic research and production base of anti-tumor drugs, has made apatinib. Apatinib is the world's first small molecule anti-angiogenesis targeted drug proven to be safe and effective in advanced gastric cancer. It is also the single drug with the best efficacy after the failure of standardized treatment for advanced gastric cancer. The annual turnover of 23.289 billion yuan (2019) is a leader in China's A-share listed companies. Heng Rui Pharmaceuticals is ranked 1066th on the Forbes Global 2000 list of 2020 companies.
2.HikVision 海康威视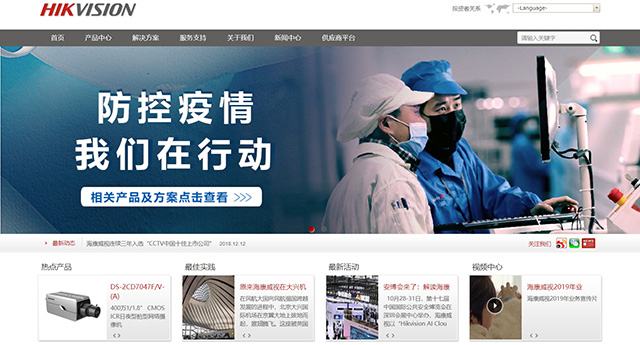 Hikvision was established in Hangzhou in 2001. Hikvision has 9,000 R&D personnel and annual turnover of 7.3 billion US dollars. It stands out among A-share technology companies and is located in the industry for perception, intelligent analysis, cloud storage, and cloud computing. the first. Video surveillance, cameras, and video image information input are all top-notch technologies. It is the world's leading provider of video-centric IoT solutions, with a global market share of 35%. It provides leading technology solutions for the world. 34 cities and branches have been established in mainland China and Hong Kong, and wholly-owned and joint venture subsidiaries have also been established in the US and India.
3.Mindray 迈瑞医疗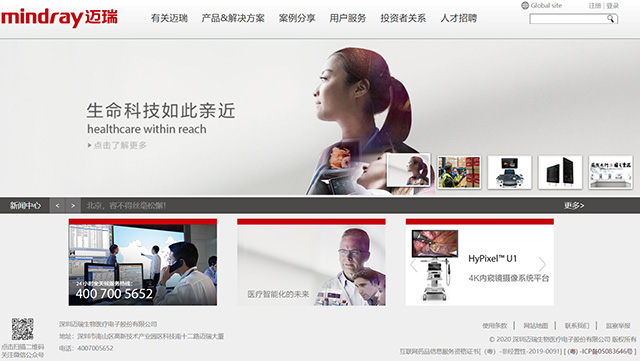 Mindray Medical International Co., Ltd. was established in Shenzhen in 1991 and employs more than 5,800 people worldwide. China's leading high-tech medical equipment R&D manufacturer is also a global leader in medical equipment creation. Committed to the research and development and manufacturing of clinical medical equipment. Its products include: life information and support, clinical testing and reagents, digital ultrasound, and radiological imaging. It is sold worldwide to more than 190 countries and regions. There are 29 branches in China and distribution and service outlets all over the world.
4.CATL battery 宁德时代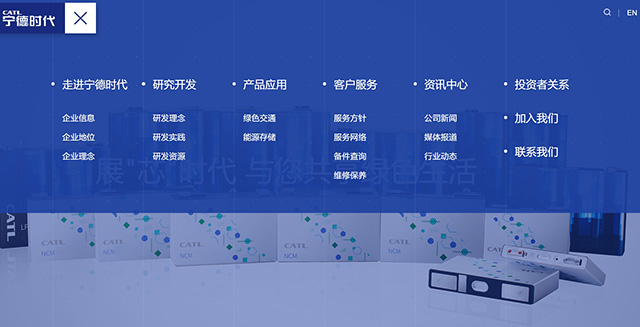 CATL (Contemporary Amperex Technology Ltd) was established in 2011, with 14,711 employees and an annual turnover of 29.611 billion yuan. It is the first domestic manufacturer of internationally competitive power batteries, focusing on new energy vehicle power battery systems and core technology. And energy storage batteries, materials, batteries, battery systems. It has established cooperative relations with many domestic mainstream car companies, and has successfully occupied a place in the global market. It has also become the first domestic lithium-ion power battery manufacturer to enter the supply chain of the world's top car companies. It was listed in the Fortune China 500 in 2018 Strong, ranked 290.
5.LuXshare 立讯精密工业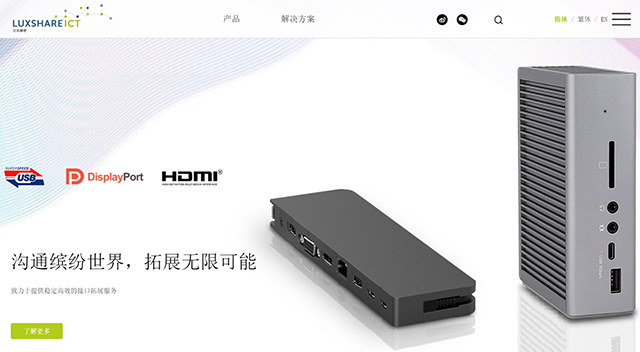 Founded in 2004, LuXshare is a company focused on connector R&D, production and sales, and high-frequency product development. Production and operation of cables, connectors, computer peripherals, etc., is the world's first assembly supplier of AirPods, enters the field of automotive connectors, communication connectors and high-end consumer electronics connectors, expands new product markets, and the company has multiple invention patents , Utility model patents and design patents
6.BOE 京东方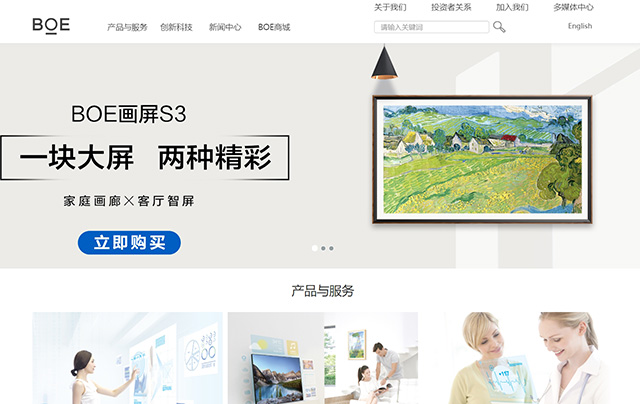 Founded in 1993, BOE Technology Group Co., Ltd. is an Internet of Things company that provides smart port products and professional services for information interaction and human health. The core business includes port devices, smart IoT and smart medical workers. Products are used in mobile phones, tablet computers, notebook computers and other fields; Smart Internet of Things is a new retail, transportation, finance, education, art, medical and other fields, network platform, BOE has a total of 9585 patent applications, including more than 90% of invention patents In total, over 70,000 patents can be used. It has been ranked as the world's second largest innovative company in the field of semiconductors, and the number of patents granted ranks 17th in the world.
7.ZTE 中兴通讯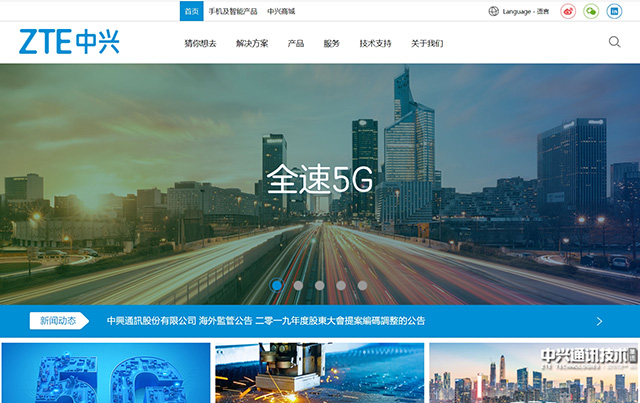 ZTE Corporation is the world's leading provider of telecommunications solutions and China's largest listed communications equipment company. Established in 1985, with 74,773 employees, 2,965 production patents, and an annual turnover of 90.737 billion yuan, the main products include: 2G/3G/4G/5G wireless base stations and core networks, IMS, fixed network access and bearer, optical network , Chips, high-end routers and other ZTE Corporation were elected as the top ten economic buzzwords in 2018.
8.WingTech 闻泰科技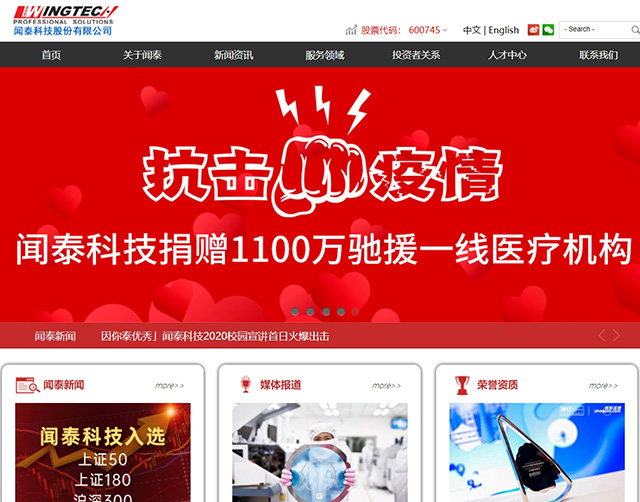 Wingtech is an ecological platform for China's mobile terminal and smart hardware industry. Its business areas include R&D, design, and smart manufacturing in the Internet of Things, such as mobile terminals, smart hardware, notebook computers, virtual reality, Internet of Vehicles, and automotive electronics.
Wingtech has nearly 2,000 R&D personnel, and has R&D laboratories and test laboratories. It has R&D capabilities in software development, hardware development, and professional testing, including smart terminals such as smartphones, tablet PCs, and game boxes. Smart hardware, VR, etc. R&D design and intelligent manufacturing of virtual reality products such as integrated headsets, Internet of Vehicles, and automotive electronic hardware and software products.
9.iFLYTEK 科大讯飞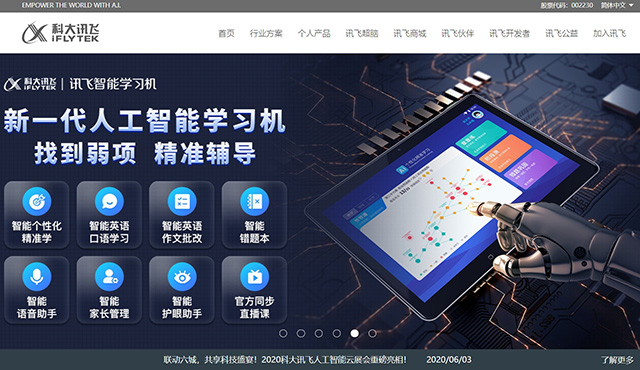 iFLYTEK is a national key software enterprise specializing in intelligent voice and voice technology research, software and chip product development, and voice information services. The main shareholders include: China Mobile, China Science and Technology Asset Management Co., Ltd., Shanghai Guangxin, Lenovo Investment, Yingfu Tek et al. Voice technology realizes human-machine voice interaction, making communication between people and machines as simple as communication between people. Speech technology mainly includes two key technologies of speech synthesis and speech recognition. Let the machine speak, use speech synthesis technology; let the machine understand human speech, use speech recognition technology. In addition, speech technology also includes speech coding, timbre conversion, spoken language evaluation, speech noise reduction and enhancement technologies, and has a broad application space.
In June 2017, he was included in the MIT Technology Review's 2017 Top 50 Smartest Companies in the World list.
On November 9, 2017, iFLYTEK's annual conference was held in Beijing. From education to medical, from customer service to smart home, to mobile phone and car environment, at the 2017 annual conference, iFLYTEK released more than 10 artificial intelligence products in multiple fields at once.
10.GOODiX 汇顶科技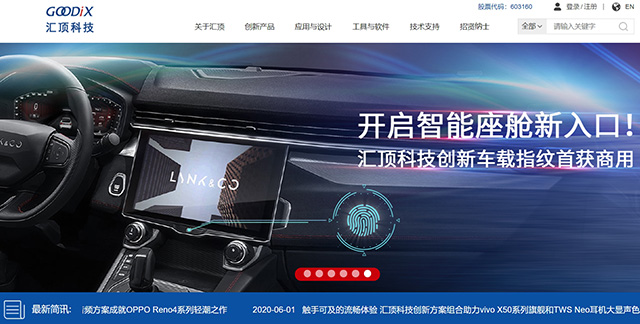 Founded in 2002, GOODiX, as a reliable technology and solution provider in the field of human-computer interaction, has continuously made new progress in the field of intelligent mobile terminal human-computer interaction technology including mobile phones, tablets and wearable products, and has continuously launched its own knowledge. Property right Goodix Link technology, integrated fingerprint recognition and touch IFS technology, live fingerprint detection technology, under-screen optical fingerprint recognition technology, etc., products and solutions are used in Huawei, Xiaomi, Lenovo, ZTE, OPPO, vivo, Meizu, LeTV, Samsung Display, JDI, Nokia, Toshiba, Panasonic, Acer, ASUS and other well-known international and domestic terminal brands.