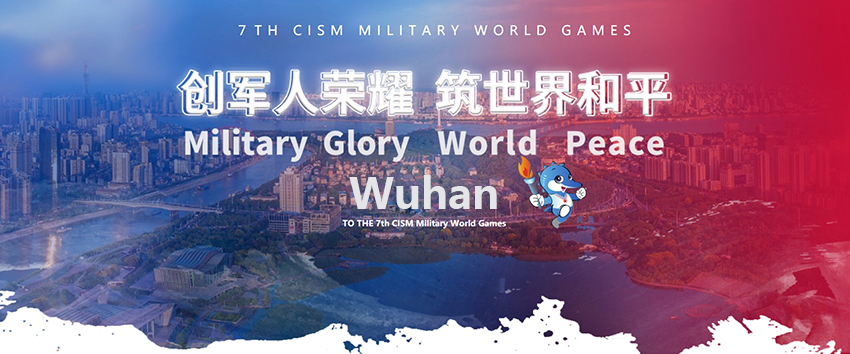 The 7th CISM World Games – the 7th PEACE GAMES – will be held in Wuhan City from 15 to 30 October 2019 with 23 CISM Disciplines and one Demonstration sport, Tennis.
Wuhan Introduction
Wuhan is the largest city in central China, the capital city of Hubei Province, the sub-provincial city, the central city of China's central region approved by the State Council, the country's important industrial base, science and education base and comprehensive transportation hub. As of 2018, the city has 13 districts with a total area of 8494.41 square kilometers, a built-up area of 628 square kilometers, a resident population of 11.081 million, an urban population of 8,896,900, and an urbanization rate of 80.2%.
Traffic in Wuhan
Wuhan is a city with convenient transportation and convenient transportation to all parts of the country and around the world.
icon-plane Wuhan Tianhe International Airport
Wuhan Tianhe International Airport (IATA:WUH,ICAO:ZHHH) is located in Huangpi District, Wuhan City, Hubei Province, China, 25 kilometers from downtown Wuhan. It is the first 4F civil international airport in central China and the eight regional regions of China. One of the hub airports, the international scheduled flight airport, and the first-class air port opened to the outside world; in January 2019, the airport began to implement the 144-hour transit visa-free policy.
Wuhan Tianhe International Airport was officially opened on April 15, 1995, and was named Wuhan Tianhe Airport. In 2000, it was designated as an international airport. In April 2008, the second phase expansion project was completed. The third phase of the expansion project was started in June 2013. It was completed and accepted in June 2017, and passed the industry acceptance and put into use in August 2017.
As of July 2017, Wuhan Tianhe International Airport has three terminal buildings with a total area of ​​659,800 square meters. It has two runways with lengths of 3,400 meters and 3,600 meters respectively. There are 153 organic sites and 20,000 square meters of cargo warehouses. It can meet the needs of annual passenger throughput of 35 million passengers, cargo and mail throughput of 440,000 tons, and aircraft take-off and landing of 404,000 flights; a total of 170 domestic and international routes have been opened, including 53 international (regional) routes.
In 2017, the passenger throughput of Wuhan Tianhe International Airport was 23.129 million person-times, up 11.4% year-on-year; the cargo and mail throughput was 185,000 tons, up 5.5% year-on-year; the number of transport movements was 183,000 times, up 4.7% year-on-year.
The T3 terminal of Wuhan Tianhe International Airport was officially opened at 06:00 on August 31, 2017. All the flights, buses and taxis of the original T1 and T2 terminals were transferred to the T3 terminal.
icon-truck Wuhan Metro
Wuhan Metro is an urban rail transit service in Wuhan, Hubei Province, China. Its first line, Wuhan Rail Transit Line 1, was opened on July 28, 2004, making Wuhan the central and western region of China. A city that has opened rail transit.
As of February 2019, there were 9 Wuhan rail transit lines, including Line 1 and Line 2 (including Airport Line, Line 2 South Extension Line), Line 3, Line 4, Line 6, Line 7. Line (including paper house line), Line 8, Line 11, Yangluo Line, a total of 216 stations, the total operating mileage of 318 kilometers, the length of the line ranked fifth in China, the first in the Midwest.
Go for Wuhan Metro Route Line
7th CISM Military World Games in Wuhan
The World Military Games (English name: Military World Games, Chinese abbreviated as the World Military Games or Military Games) is a large-scale comprehensive sports meeting of the world's highest military standards sponsored by the International Military Sports Council. It is held every four years, with a duration of 7 to In 10 days, there are 24 major events in the basic competition. The scale of the competition is more than 100 countries. The scale is second only to the Olympic Games. It is an important platform for the military in various countries to demonstrate their image of strength, enhance friendly exchanges and expand international influence. It is known as the "military". Olympic Games".
The 7th World Military Games will be held in Wuhan, China on October 18, 2019. The competition will be held for 10 days. A total of 27 major items, 329 items, such as shooting, swimming, track and field, and basketball will be set up. At that time, nearly 10,000 active military personnel from more than 100 countries will compete on the same stage. This is the first time that China has hosted a comprehensive international military event. It is also the largest international sports event held in China after the Beijing Olympic Games.