Night market culture is a unique culture in China, and night market snacks attract people from different places. The variety of snacks in the night market is delicious, so it is more popular with the general public. In China, these 10 night market snack streets are the most famous and top 10 night market snack streets.
1. Shanghai City God Temple 上海城隍庙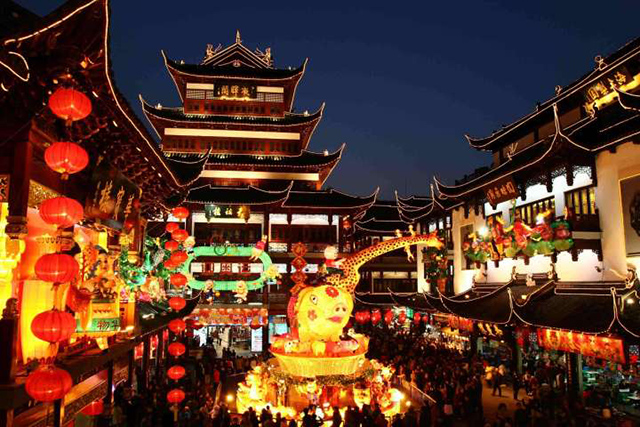 "If you don't go to the City God Temple in Shanghai, you've never been to Great Shanghai." This shows the status and influence of City God Temple snacks in Shanghai. Nanxiang Xiaolongbao, pork ribs rice cakes, crab noodle soup, jelly noodles, small wontons, eight-treasure rice, raw fried buns, fried dumplings and many other Shanghai foods can be found here. In addition to traditional snacks, there are various ice cream shops, chicken cutlets, barbecue stalls~!
2.Wuhan Hubu Lane 武汉户部巷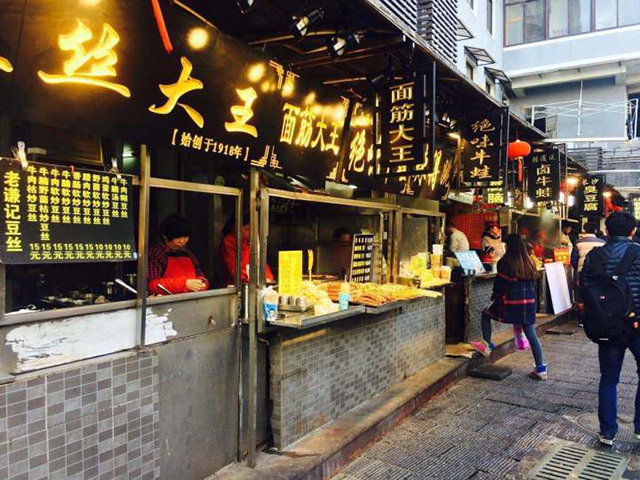 Wuhan's Hubu Lane, also known as "The First Lane of Chinese Snacks", is also a century-old lane. Hubu Lane is located at the entrance of Wuchang Simen, east of Shili Long Street (Jiefang Road), facing the vast Yangtze River, and the Yellow Crane Tower in the south. A food paradise amidst famous buildings and famous scenery.
There are dozens of specialty snacks gathered in this old lane of only 150 meters. There are everything from early morning to midnight snack. Every day from early morning to late night is a popular table. Some of the century-old brands are lined up to form long queues.
3.Nanjing Confucius Temple Snack Street 南京夫子庙小吃街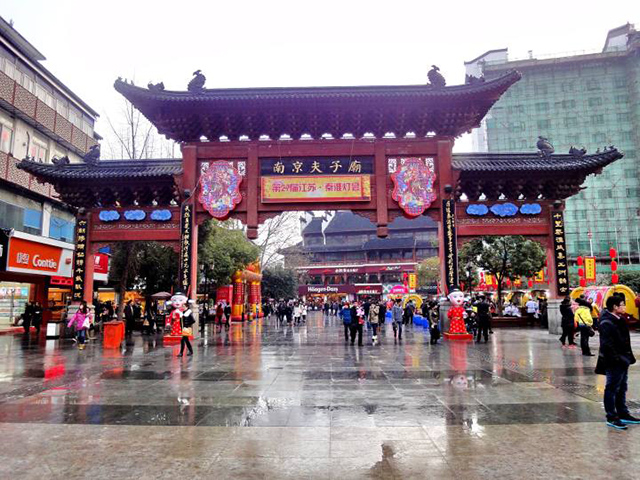 Nanjing, which has a long history, is called "Six Dynasties Resort, Ten Generations of Metropolis", and the food culture here is also the best in China. In addition to the most famous "Qinhuai Eight Distinctions", there are also traditional local cuisine left by the people of the Quartet in ancient times when they gathered in the imperial capital.
4.Zhongshan Road, Nanning 南宁中山路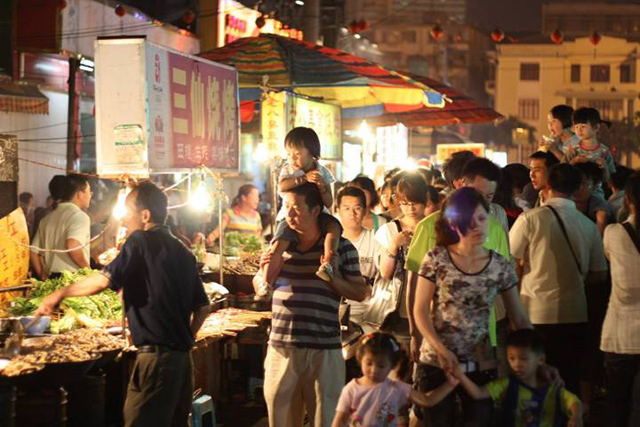 Zhongshan Road in Nanning, Guangxi is also a well-known food and snack street. If you go for the first time, you may have the impression of "like a paradise at night and a grass room during the day". This is located in the city center but is narrow and chaotic, crowded The side streets and lanes only exude its infinite charm.
Nanning's traditional snacks such as taro cakes, rice noodles, dumplings, snails, sour wild herbs, herbal tea, peanut paste, rice balls, wontons, beef balls, bazhen yi noodles, and old friend noodles can all be found here. No wonder someone has to say that Nanning Zhongshan Road only takes 5 minutes to walk from one end to the other, but it takes several years to eat from this end to the other end!
5.Qingdao Zhongshan Road Pichaiyuan 青岛中山路劈柴院

Pichaiyuan can be regarded as a veritable food street in Qingdao. In the 1930s, this was Qingdao's largest "market courtyard", gathering a group of craftsmen, food stalls, various restaurants and so on. Today's Pichai Courtyard is not just a street for snacks, but also various craft shops, antique shops, tea houses and theaters, etc. Locals come here to eat and play while shopping.
Naturally, the seafood as the protagonist is indispensable in the delicious food here. The seafood stalls here have a variety of fresh ingredients. While the boss sells, they make a variety of seafood dishes on the spot (Xiaobian's favorite grilled squid! Drooling!), fragrance From the street to the end of the street, people are coveted, in addition to ravioli, stove, teppanyaki, etc., here can be said to be the best place to visit the night market!
6.Sifang Street, Old Town of Lijiang, Yunnan 云南丽江古城四方街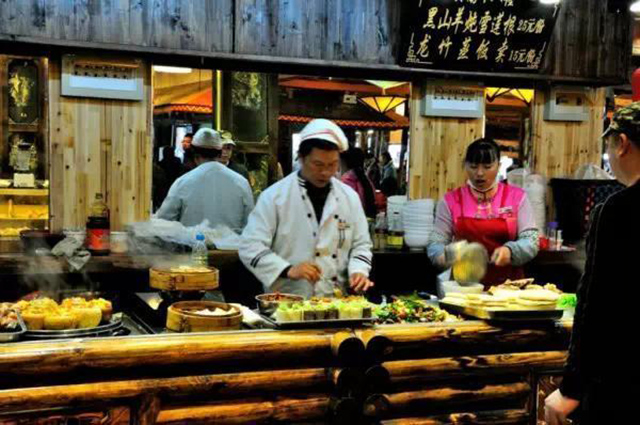 "Sifang Street first, then Lijiang Ancient City". This ancient street in the center of Lijiang Ancient City is a spokesperson for Lijiang. Sifang Street is not only famous for its quaint street scenes, but also has local specialties.
There are more than a dozen small restaurants on a short street in Dashiqiao. Because the rice noodles here are rich in raw materials and taste delicious, this street is also called "rice noodle street". In addition, there are famous snacks such as Naxi rice cake, yak milk, tofu and so on.
7.Xi'an Muslim Snack Street 西安回民小吃街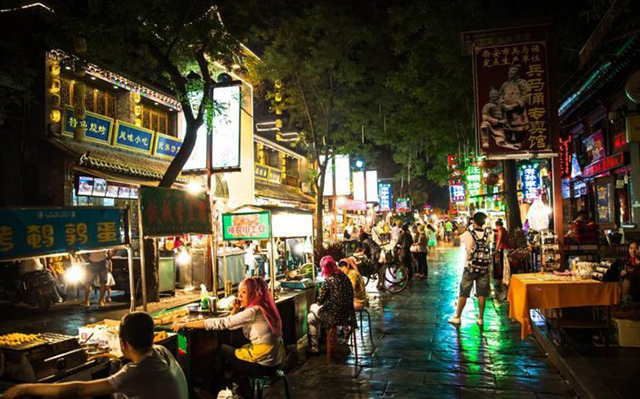 Xi'an, Shaanxi, as one of the four ancient cultural capitals of China, has a history of over a thousand years. The Muslim snack street in this ancient capital has a history of thousands of years and is the oldest snack street in China.
Although it is called a snack street, the Muslim snack street is actually composed of several streets, and the locals also more appropriately call it "Huifang", which is also the snack city. The snacks here are not only varied, but most of them are used. With the most traditional approach, workmanship is very delicate. Some Northwest style snacks can only be eaten here.
8.Chengdu Jinli 成都锦里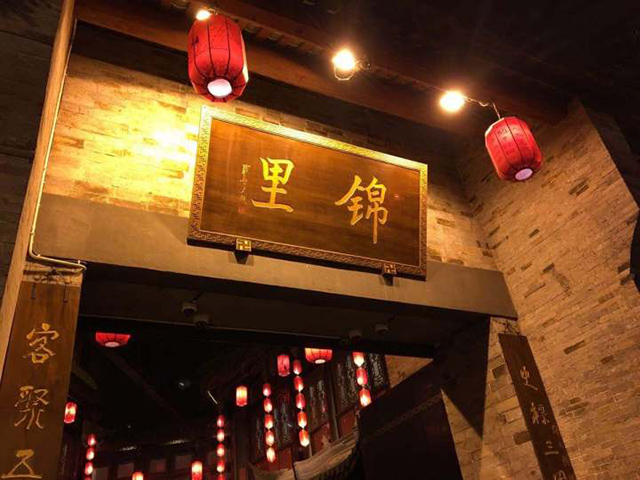 As another ancient cultural capital, Jinli in Chengdu also has a long history. Legend has it that Jinli in the Shuhan era was once famous throughout the country for its abundance and cuisine. Here, all Chengdu snacks can be found whether you call it up or not. The whole street is 550 meters from beginning to end. Every step of the way, there are fragrant snacks waving to you.
9.Taiwan Shilin Night Market 台湾士林夜市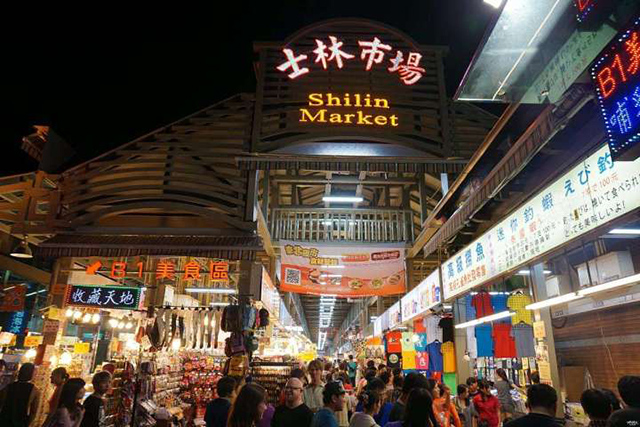 Taipei's Shihlin Market is arguably one of the largest night markets in China. There are 500 shops and stalls here, and it also includes all kinds of food from the south to the north. Whether it is fried chicken cutlet, grilled squid, salted chicken, oyster fried, pearl milk tea or Cantonese porridge, ramen, cold noodles, biscuits, even sushi, kimchi pot, steak, you can find many delicious restaurants here. No matter where you come from, you can always find the taste of hometown here. Every night, locals and tourists visiting the night market always have the water blocked here.
10.Gui Street 簋街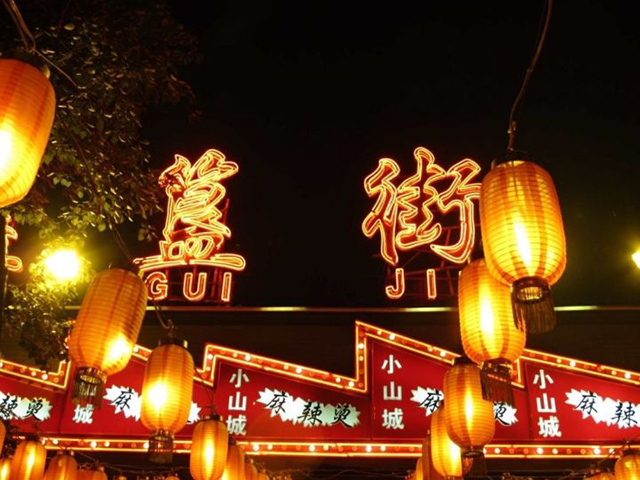 "Gui" refers to an appliance for holding food. Since it is called Guijie, it is naturally inseparable from food. This one-kilometre street in Dongzhimen is home to more than 150 restaurants and is a veritable food street. One of the most famous is the spicy main dish. Beijing people know that Ma Xiao is only the best in Guijie, and grilled fish, greedy frogs, spicy crabs, barbecue and so on are also the main dishes of Guijie.
The hustle and bustle of Guijie will not be reflected until the sun goes down. Often just after 6 pm, many old restaurants are already full of customers at the entrance, and their popularity continues until midnight. Many of the patrons are repeat customers. The spicy and spicy crayfish, accompanied by cold beer, interprets the unique scenery of the taste buds in Beijing, a metropolis.