China is a big manufacturing country, and it is rich in products. Selling Chinese-made goods to the whole world is not only what Chinese companies are doing. Many foreign customers also hope to have access to cheap goods in China. Here, let me introduce you to the foreign trade B2B websites in China.
1.Alibaba.com 阿里巴巴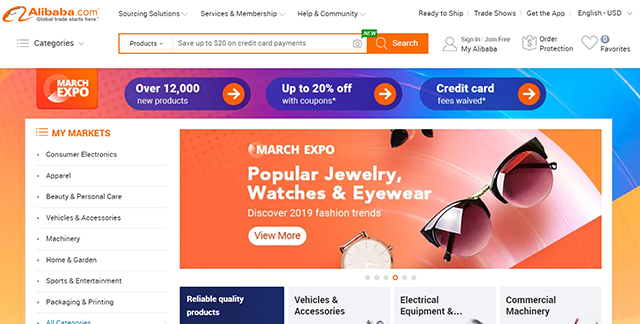 Launched in 1999, Alibaba.com is the leading platform for global wholesale trade. They serve millions of buyers and suppliers around the world.As part of the Alibaba Group, their mission is to make it easy to do business anywhere. They do this by giving suppliers the tools necessary to reach a global audience for their products, and by helping buyers find products and suppliers quickly and efficiently.
2.TradeKey.com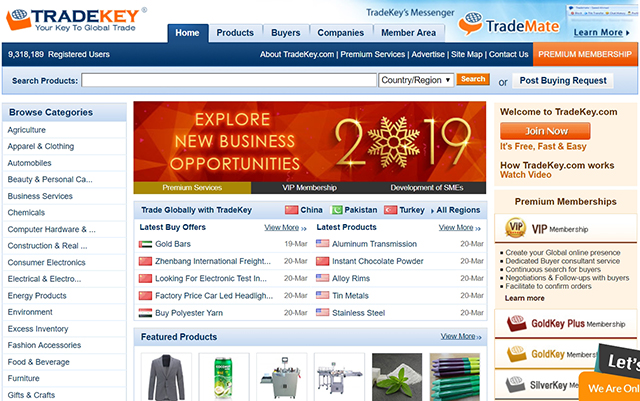 Tradekey is a global company established in 2006 and have presence in many countries.
Tradekey company owns, manages and operate which is considered one of the largest International Electronic Marketplaces worldwide for both exporting and importing countries. It connects traders with global whole sellers, buyers, importers & exporters, manufacturers and distributors in over 240 countries, quickly and cost effectively. Based on its unique services, powerful search engine, trade matching and product promoting tools.
Tradekey have successfully helped numerous members belonging to various countries to explore potential business for the purpose of increasing their country's GDP. Millions of people visits Tradekey.com every month and tens of millions pages viewed without any single fail. These numbers corroborate with the veracity of the claim that Tradekey.com can give an extraordinary exposure to traders in the global market.
3.Made-in-China.com 中国制造网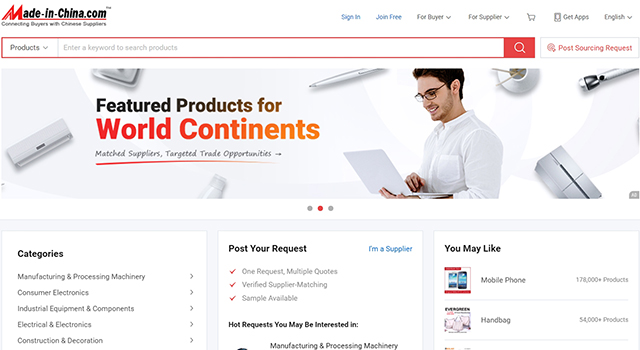 Founded in 1998, Made-in-China.com is a leading comprehensive third-party B2B e-commerce platform in China developed and operated by Focus Technology Co., Ltd. It is dedicated to serving the global trade field and providing high-quality Chinese products and suppliers information for global buyers.
Nowadays, Made-in-China.com is a world leading B2B portal, specializing in bridging the gap between global buyers and quality Chinese suppliers.
China's first B2B e-commerce platform conducting a full review on paid-up suppliers.
Providing product information of 27 categories and 3,600 sub-categories.
Displaying website information in 11 languages.
4.Ecvv.com 伊西威威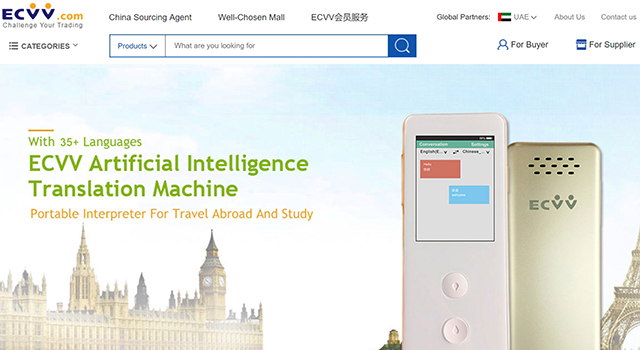 ECVV (www.ecvv.com) is one of the largest B2B websites in the world. Founded in 2003, with the mission of facilitating global trade more efficiently, ECVV are striving for providing global buyers with the current and quality information on suppliers and products, and global suppliers with a full package of promotion services. For the past seven years, we have been dedicated to our industry, and on our platform serviced businesses all over the world. We have assisted many global small-and-medium-sized enterprises to participate in international trade and make more achievement.
Up to the May of 2011, we have had 2,500,000 registered users, and successfully received 1,500,000 buyers from more than 220 countries and regions. The annual trade volume on ECVV is estimated to be $5,000,000,000. Besides, we are a recommended e-commerce platform for international trade by Shenzhen Government, American International Business Council, and other organizations.
5.DHgate.com 敦煌网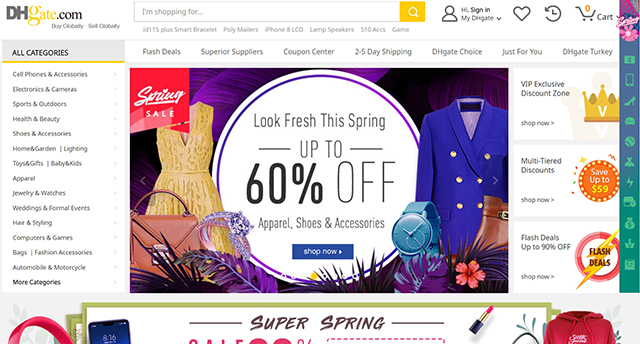 DHgate.com is the world's leading online wholesale marketplace for goods made in China, connecting international buyers with Chinese wholesale sellers who offer the same quality products found elsewhere at a fraction of the price. DHgate hosts over 30 million products in a wide range of categories including Apparel & Accessories, Computers & Networking, Consumer Electronics, Toys & Hobbies, Health & Beauty, Bags & Jewelry, Home, Auto, and more. Get low prices on top selling products such as but not limited to wedding dresses, tablet pc, and cell phones. DHgate provides a buyer protection plan, a secure refund policy, express delivery, and shipment tracking, and is committed to providing a fast, easy, and safe buying experience to businesses and consumers worldwide.
6.GlobalSources.com 环球资源外贸网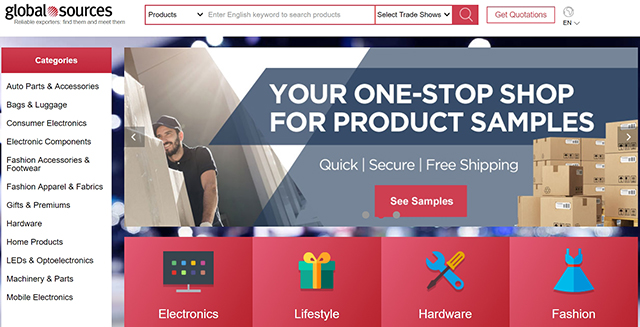 Established for 48 years, Global Sources has built a trustworthy B2B platform that serves buyers and suppliers online and offline. The core business facilitates trade between Asia and the world through trade shows (GlobalSources.com/exhibitions), online marketplaces (GlobalSources.com), magazines, and apps.
The company organizes export sourcing shows in Hong Kong every April and October with eight events annually, including the world's largest electronics and mobile electronics shows as well as Lifestyle and Fashion shows.
More than 1.5 million international buyers, including 94 of the world's top 100 retailers, use these services to obtain product and company information to help them source more profitably from overseas supply markets. These services also provide suppliers with integrated marketing solutions to build corporate image, generate sales leads and win orders from buyers in more than 240 countries and territories.
Global Sources is also a majority shareholder in Shenzhen International Machinery Manufacturing Industry Exhibition (SIMM) and its related shows—the leading machinery exhibitions in Southern China.
7.EC21.com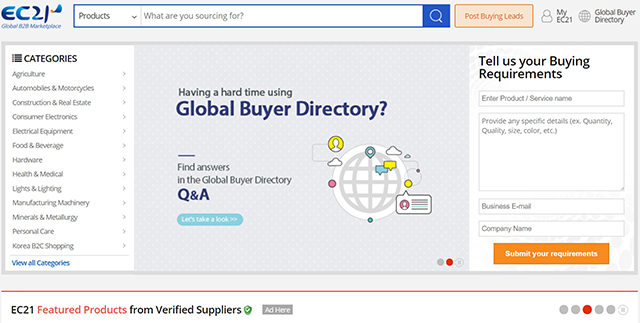 EC21.com is one of the world's largest online B2B marketplaces, connecting millions of suppliers and buyers worldwide. Since 1997, EC21.com has been facilitating global trade opportunities for small- and medium-sized enterprises. Through its leading technology and expertise in international trade, it has achieved international recognition and trust in the global business community.
Today EC21 has over 2 million member companies, 7 million products, 3.5 million buyers in its database, and 3.5 million monthly visitors. And it is still growing.
8.En.china.cn 中国供应商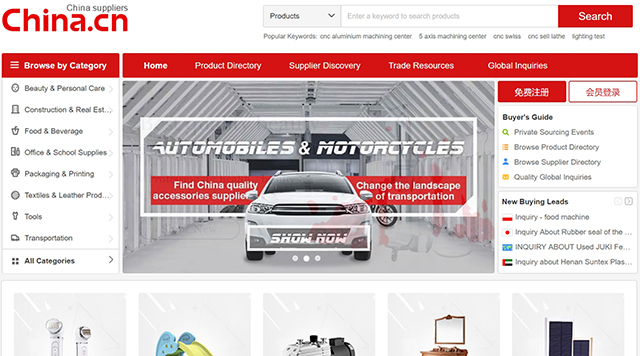 CHINA.CN is developed and operated by Beijing Qizhihaotian Technology Co., Ltd. founded in 2006 with 200 employees in China, headquartered in Beijing. CHINA.CN is a B2B e-commerce platform which connects global buyers and China suppliers. After CHINA.CN launched its online trade platform, it has helped many Chinese SMEs who were competing in international trade, serving millions of buyers and suppliers around the world. With the high authority and influence, CHINA.CN has been honored as a leading team in the B2B market of China.
With the worldwide network and high brand recognition, CHINA.CN is extending its business field to the global market by providing great value such as quality business opportunities, cost saving, and others convenience. Depending on CHINA.CN's advanced technology and expertise in international trade, it has achieved international recognition and trust in the global business community.
9.DIYTrade.com 自助贸易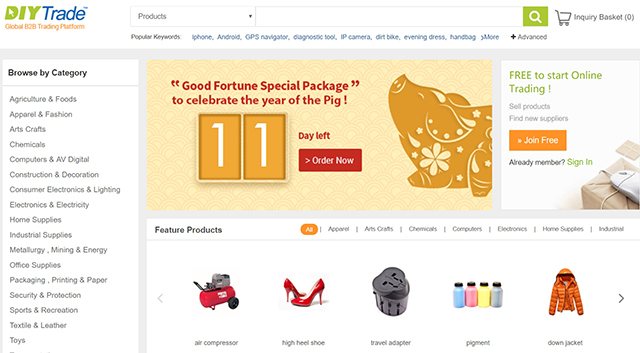 DIYTrade.com, one of the best-known (B2B) online trading platform in the world with over 5 million products. It was launched with the name eBigChina.com in 1999 and renamed to DIYTrade.com in May 2006. Through its leading technology and concrete market strategy, DIYTrade.com has quickly became merchants' favorite website for product sourcing and selling.
DIYTrade.com founded in 1998, an ebusiness service provider focus on serving Small and Medium-sized Enterprises (SMEs) with best-class ebusiness solutions. These years, as a chief driver of B2B online trade the company continues to create and facilitate global online trading opportunities for SMEs.
10.e-Cantonfair.com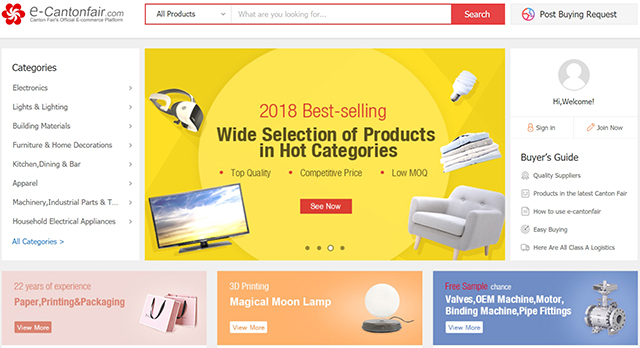 As the only official e-commerce platform of Canton Fair, e-cantonfair.com is a large-scale transnational website, where verified Chinese suppliers provide best products to buyers all over the world.